Reynoso Art: It Made Her Sad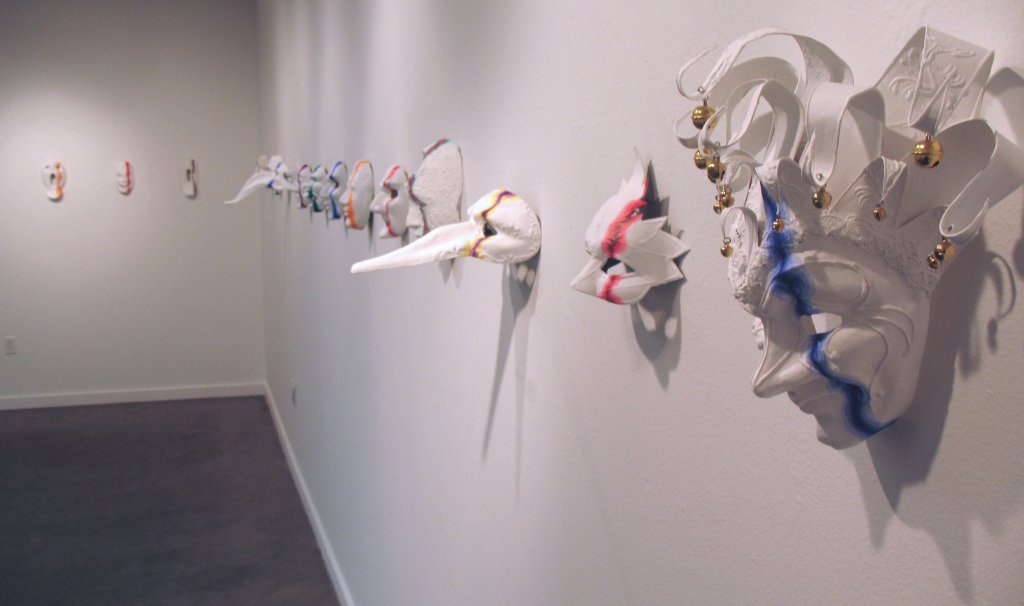 In 2008, I was selected by the Nagel Institute for the Study of World Christianity at Calvin College to be one of eight art professors to take part in a cross-cultural seminar in Indonesia. It was an amazing experience.
Part of the commitment from participants was to produce artwork inspired by the experience for a traveling exhibition. For my work, I took 10 Mardi Gras masks (I was living in Louisiana) and 10 Indonesia ballet masks. I then white washed the masks and covered them with my contemporary imagery. The concept was, in part, to reflect the white washing of traditional cultures that happens with modernity and globalization.
I finished the series in time to take part in a faculty exhibition. I had not yet decided on the title of the series and I mentioned this during the artist talk. I asked the students to bring me any title ideas they had. For the most part, they had all the same silly ideas that I had…none of which I liked. After the opening, my wife and I were walking to our car talking to one of my star students. She commented that the masks were beautiful but they kind of made her sad. She got it. That is exactly how the work should make her feel. I had my title, "It Made Her Sad."