Reynoso Art: Symphony in a Buckeye Flower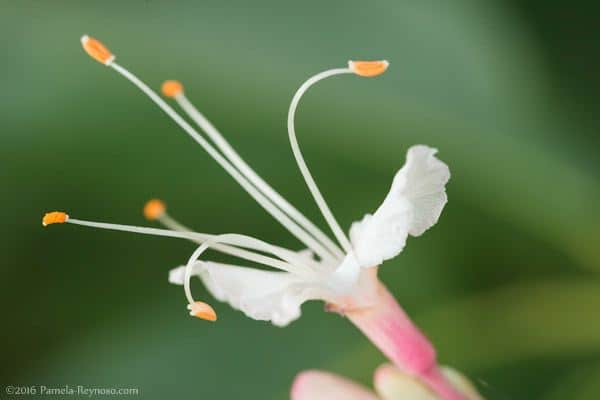 This single image of a Buckeye flower was hard-fought! As I was photographing in some vineyards, I noticed two large trees covered in spikes of flowers at the edge of vineyard near the creek. I asked one of the vineyard owners if he knew what they were, and he told me. Flowers pretty much always call my name, especially flowers I'd never seen before, so I wasted little time hustling over to investigate. The early morning was overcast which made it perfectly suited for photographing these small, delicate white and pink blooms.
In all I spent about 20 minutes photographing these beautiful flowers before the sun came out and the wind picked up making macro work pretty impossible. I did go back the next day as well, for another hour. Flowers fade quickly, and I didn't want to miss these. It's hard to tell which day I  came into contact with the poison oak (to which I'm highly allergic)… but I'll not soon forget how chasing something so beautiful can result in making one so miserable! Perhaps next time I see a lovely flower I'll be a little less like moth to a flame and be a little more cautious!
There's always hope, right? :)
~Pamela
All images are All Rights Reserved and may not be used in any manner without prior consent. Images are available for licensing or in print form. Please use my contact form to inquire and use the image title "Symphony" when referring to this image.