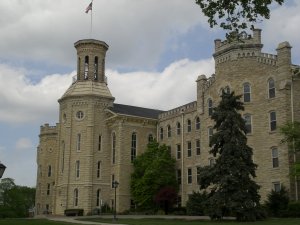 **Click HERE to see current rankings**
Student Selectivity is the final of the four categories that are calculated as a part of the overall Faith on View Christian College Rankings. Prestige, Student Satisfaction & Success, and Faculty Resources were previously published. Below is the methodological description of this category for most selective Christian colleges in the U.S. . For other aspects of the full study please consult the methodology page.
Student Selectivity

Student selectivity is an important part of ranking a college. But, student selectivity should be broadly understood. The pedagogical concern in this section is how bright, motivated, and prepared students are to pursue college level work not how many students are not admitted. As a result while the acceptance rate is a part of the calculation here, more important are standardized test scores and student success in high school.
There are five institutions that rank in the top 20 of all four categories:
Pepperdine University, Wheaton College, Thomas Aquinas College, Westmont College, and Providence College.
Thomas Aquinas has finished first in two categories while Wheaton and Pepperdine have each finished first in one.
Top 20 Christian Colleges in Student Selectivity
.
Rank
Score
College
Location
Undergrad Enrollment (Total)
1.
100
Wheaton College
Wheaton, IL
2433 (3069)
2.
97
Patrick Henry College
Percellville, VA
405
3.
94
Baylor University
Waco, TX
12,575 (15,029)
4.
93
Pepperdine University
Malibu, CA
3474 (7539)
5.
90
Christendom College
Front Royal, VA
388 (388+)
5.
90
Thomas Aquinas College
Santa Paula, CA
358
7.
89
Le Tourneau University
Longview, TX
2591 (2950)
7.
89
Westmont College
Santa Barbara, CA
1337 (1341)
9.
88
Berea College
Berea, KY
1661
9.
88
Union University
Jackson, TN
2875 (4007)
9.
88
University of Dallas
Irving, TX
1356 (2725)
12.
87
Belmont University
Nashville, TN
5004 (6395)
12.
87
Providence College
Providence, RI
4174 (4769)
12.
87
Taylor University
Upland, IN
2286 (2422)
15.
86
Franciscan University of Steubenville
Steubenville, OH
2131 (2823)
15.
86
Hope College
Holland, MI
3249
15.
86
The King's College
New York, NY
465
15.
86
Mercer University
Macon, GA
4404 (8329)
15.
86
Messiah College
Mechanicsburg, PA
2805 (2976)
15.
86
Point Loma Nazarene University
San Diego, CA
2376 (3251)
15.
86
Samford University
Birmingham, AL
2950 (4758)
About Post Author