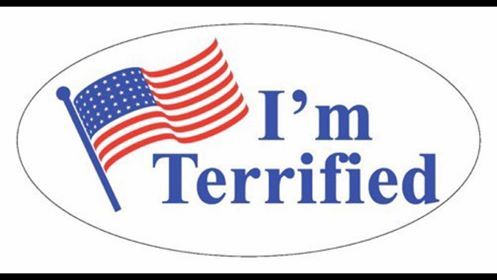 Last night at about 9 pm I posted the above image on Facebook. At that point I was growing very concerned about the direction of the election and thought this was a funny parody of the "I Voted" sticker. It got quite a few likes and started some arguments.
I'm Brokenhearted
But, as I thought about it this morning it really doesn't describe where I am. I'm not terrified. Don't get me wrong, I think there is the potential for dangerous days ahead. But what most describes me at this moment is brokenhearted.
I am brokenhearted that our nation would choose bile, vitriol, and hate. I spoke to my Dad, Cruz Reynoso, last night who has spent a life-time fighting for social justice. One of the things that he said that struck a chord was "I misjudged the American people." I feel that same sense…deeply.
As much as I dislike Trump's rhetoric, what I feel now is a sadness, broken-heartedness that our nation would choose bile. What breaks my heart even more is that the visible church would make that same choice.
I thought of Psalm 147 (I posted it below) this morning. It was a good Psalm to read today. "He heals the brokenhearted and binds up their wounds." That is what I need today. That is what many people need. "He gathers the outcasts of Israel" I'm not Israel, but at times I feel like an outcast from the church- that is especially true the day after most in the church voted for hate and turned their backs on love. "The LORD lifts up the humble; he casts the wicked to the ground." Please make it so!
The next part of the Psalm begins "Sing to the LORD with thanksgiving". Challenging but important in times like this. Then it basically reminds us he is in charge. God is still King. That does not mean that everything will work out perfectly (or even well) here in this life. Nor does it mean we should not fight hard for what is right here and now. But, our hope is not in this life. "The LORD takes pleasure in those who fear him, in those who hope in his steadfast love." Our hope is in the Love of God not in Trump and not in Hillary, as important as this election was. 
The very end of the Psalm deals with Israel and I almost didn't include it below. But this part struck me, "He has not dealt thus with any other nation; they do not know his rules." We need to remember that we are not Israel. The United States is not God's chosen people. We are among the "any other nation" category. 
After my Art Criticism class finished talking about our readings this morning, we talked about the election and the students stayed well after class was done to discuss it. I was actually encouraged by the students at a time when I have not found the church particularly encouraging. What I stressed to them was my broken-heartedness. Yes- that our nation chose hate. But, even bigger for me is the church. At a time when there are millions of people who need to have their broken hearts healed and their wounds bound by God, they may not even look in His direction because His people have so mischaracterized Him. When many in America should be looking to God for love, grace, and healing, they look the other way because the image of God we have shown to the world distorts his loving character into something profoundly different.
I pray that my broken-heartedness will be healed. But more importantly, I pray that the broken-heartedness of those who this election disenfranchised will be healed. And, that somehow they can see past the visible church to the loving God whose good name and gracious character we have tarnished.
Psalm 147
1Praise the LORD!
For it is good to sing praises to our God;
for it is pleasant,a and a song of praise is fitting.
2The LORD builds up Jerusalem;
he gathers the outcasts of Israel.
3He heals the brokenhearted
and binds up their wounds.
4He determines the number of the stars;
he gives to all of them their names.
5Great is our Lord, and abundant in power;
his understanding is beyond measure.
6The LORD lifts up the humble;b
he casts the wicked to the ground.
7Sing to the LORD with thanksgiving;
make melody to our God on the lyre!
8He covers the heavens with clouds;
he prepares rain for the earth;
he makes grass grow on the hills.
9He gives to the beasts their food,
and to the young ravens that cry.
10His delight is not in the strength of the horse,
nor his pleasure in the legs of a man,
11but the LORD takes pleasure in those who fear him,
in those who hope in his steadfast love.
12Praise the LORD, O Jerusalem!
Praise your God, O Zion!
13For he strengthens the bars of your gates;
he blesses your children within you.
14He makes peace in your borders;
he fills you with the finest of the wheat.
15He sends out his command to the earth;
his word runs swiftly.
16He gives snow like wool;
he scatters frost like ashes.
17He hurls down his crystals of ice like crumbs;
who can stand before his cold?
18He sends out his word, and melts them;
he makes his wind blow and the waters flow.
19He declares his word to Jacob,
his statutes and rulesc to Israel.
20He has not dealt thus with any other nation;
they do not know his rules.d
Praise the LORD!
About Post Author