Today is my Birthday…Happy Birthday to me? I don't feel very happy. It feels more like a time for lamentation than joy.
I had a very different essay planned for this week but this subject is really top of mind for me. I know this isn't the type of essay most people want to read, especially this time of year. Most, articles in mid-December are about joy. Some profound…most far from it. But, writing can be a catharsis.
It has been a hard few years. In 2015, I wrote a little about my desert experience in a post titled, "The Wilderness: Wandering in Life's Desert." To be honest, things have only gotten worse.
Struggles
Since beginning my Ph.D. program, I have had two children diagnosed with Autism and another with Turner's Syndrome. In 2016, my adviser passed away. If you've worked on a Ph.D., you know how huge of a deal that is. In fact, my adviser passing away triggered a panic attack that resulted in a hospital visit. My wife often says that I'm the very last person she'd expect to have a panic attack as my demeanor is quite laid back.
When I first started my Ph.D. program, I made the cross-country move based on my Dad's promise that I could live in the home I grew up in; it had been sitting vacant for a few years. A week before we loaded the truck and left the home we owned, I was reassured to go ahead and come. Unfortunately, that never materialized as my siblings, unbeknownst to me, pressured my father to not allow my family to live in the empty home.
Acknowledging the significant lurch my family was now in and to try and help salvage the situation, my father generously decided to help us out financially. It was a significant amount but it was not enough to cover the cost of living, even in a less expensive part of the San Francisco Bay Area, forty-five minutes from where my school was located. As a result, I had to take out student loans to cover to supplement my living expenses. While we had zero debt when I started the Ph.D., we now owe a significant amount both on our credit cards and on student loans. I still had to work though. I often taught two or three courses a semester. In my busiest semester, I taught five classes at three different institutions commuting over 200 miles on many days. All this work significantly slowed my Ph.D. progress.
Eventually, in 2017, I told my Dad that I needed to either be able to move to the empty house, as initially promised, or I had to drop out of the Ph.D. program. As a champion of education, my Dad did not want me to drop out of my program and decided that it made sense for us to move into his still vacant house.
More Struggles
I've known about my sibling's animus toward me for several years. It runs deep. When I moved back to California to pursue my Ph.D., my Dad encouraged me to attend counseling with one of my siblings, though at one point or another all the siblings were involved in the counseling. It was a pre-condition for moving into the house, which of course never materialized. I had deeply hoped for the repair and restoration of sibling relationships. After a few months, the counselor abruptly stopped the sessions. I was confused and inquired of her privately about why we weren't continuing. She explained that there was no point. She told me how she observed that I would be on the couch in tears or near tears as we spoke about issues but my sibling had absolutely no emotional response. That lack of response or emotional engagement left no path forward, in her view.
So, when we moved to the family home we signed a lease with my father to give us some security. I was in the Ph.D. program and my wife had gone back to school to work on her undergraduate degree. We needed housing security to allow us to finish.
Sadly, my father's cognitive health began to decline… rapidly. A sibling swooped in and got control of everything. My siblings instantly opened a fraudulent criminal and Adult Protective Services investigation into the help I had received from my Dad. The police, of course, quickly realized there was absolutely no criminality on my part. In fact, the detective thought the entire thing was silly and apologized to me.
Yes, Even More Struggles
My father and I had come to an agreement before I moved to his house that he would continue helping me with my Ph.D. through the academic year and then completely draw down the help to a stop. But, my siblings, now in control, cut off that help without notice. We had no money for gas, food, or anything. In fact, our church stepped in with some help so that we could pay our electrical bill the day before our electricity was cut off.
But, this wasn't enough. They forced me into mediation under the pretense of officially stopping the help that my father had promised, for which I had a signed agreement. But, it was a ruse. They spent more on the mediation than he had committed. In all, the mediation and agreement cost the trust more than twice the help my father had committed to me. A commitment that I was prepared to let slide. The reality was that their chief aim was to get me and my family out of the house. I went to mediation without a lawyer because I couldn't afford the $10,000 retainer that I was quoted. Remember, my electricity was about to get cut off.
Since there was no indication given that the mediation was going to try to get me out of the house, I wasn't even able to use Legal Services which helps with housing issues. My siblings, on the other hand, employed my father's resources to have two lawyers. Now that I've spoken to Legal Services, after the fact, I know that much of what their lawyers told me was questionable, at best. Under the threat of an immediate lawsuit, we came to an agreement that requires that I move out by January 1st. It was bullying and coercive… but legal. One of the great ironies is that my father established his legal career in legal services by providing legal representation for those who couldn't afford it. Now, his resources have been used to overwhelm his own son who couldn't afford legal representation.
The Fallout
My wife had to drop out of school to look for work. I have been applying for jobs. It hasn't been easy. My two adult children, who don't yet have driver's licenses, have been able to find temporary work through a staffing agency 27 miles from our home, on different shifts. My wife has been applying for jobs and working with some county programs to try to get work. But, finding work is challenging for a displaced homemaker who gave thirteen years to home-school our children with learning disabilities and who had to suddenly drop out of college, again.
As an academic, the jobs I apply for won't even start until late summer. I am applying for some grants and fellowships for the spring which hopefully will allow me to continue to work on my Ph.D. and not waste the $150,000 of debt I have accrued. I have also secured some summer and fall teaching at the University of California, Berkeley but was unable to line anything up for the spring. The plan for this year had been to devote all of it to make as much progress on my Ph.D. as I could.
As it stands now, the agreement has our family of seven moving out of the house in 13 days. My siblings have failed to follow two parts of our mediation agreement; but, Legal Services says that the way the agreement is written there are no legal remedies. Unfortunately, we haven't been able to cobble together a sufficient income (three times the expensive California rents) so we are, despite a cash payment offered as part of the mediation, unable to find a place to live. Homelessness is not only a real possibility but a likelihood at this point.
Rather than a Christmas filled with gifts and cheer, it is a Christmas filled with boxes and the mess that accompanies packing up a house. No Christmas tree, no presents, no lights. The totality of our Christmas celebration will probably be a matinee movie.
An Aching Heart
My heart aches as my 10-year-old daughter contemplates what it could be like to sleep in our minivan. My heart aches for my high school son. We moved halfway through his freshman year to live where we are now because we thought we would be here through his high school career while I finished my Ph.D. and my wife finished her undergraduate degree. He is now looking at attending his third school in his first year and a half of high school. My heart aches for my 8th-grade daughter who last year was diagnosed with Autism and is finally in a school that is serving her needs. It ached last Friday when I picked up my younger daughters from a school dance and I realized that the school where they have thrived for the last year and love so dearly will be yanked away from them by familial malice.
My heart aches for the memory of my mother. We have been attending the church that I grew up in and which she attended for over 30 years. To this day, they still love her dearly as she was such a kind, loving pillar of the church. In the waning months of her life, she wrote about how poorly one sibling treated me and told another they did not treat me lovingly. They have proven her point. She was so much about family ties and the children working together. In my mind, I can see tears streaming down her cheeks as she sees what has become of her family.
My heart aches for my father. As his Alzheimer's progresses rapidly, he is happy. But, he is not at all who he was. I watch, powerless, from my forced sideline position as his wishes are undone and his legacy dishonored by the power that was gained after his Alzheimer's diagnosis. Even, his lawyer acknowledged this. The clever spark that always glimmered in his eyes has largely faded as he struggles to remember that I am his deceased wife's son.
Desiring Relationship

As I drove my adult daughter to her temporary position this morning, I struggled to hide the tears in my eyes. I recently posted this picture stating that I found it nostalgic. It is a picture taken by my mother over 40 years ago where I hold hands with my sibling. It reminds me of a long-lost past and a mythical present where malice is replaced by love. An alternate reality where patience, kindness, and grace are extended in family relationships.
After the counseling I mentioned earlier, the counselor told my father that I was the one she was most concerned about because I desperately wanted those family relationships. I told her that I felt that I had lost my family when my mother died. The counselor found that heartbreaking and brought it up in a session with one of my siblings. That sibling agreed that I had lost my family with my mother's passing and then refused to attend any further counseling. I still remember the shock that registered in the counselor's eyes. It was clear she expected the sibling to argue that I had not, in fact, lost my family.
Now, as my father's glimmer fades, I know that I will soon have no family. In our living room, at least for the next 13 days, hangs a family tree drawing that I made some 15 years ago for my mother. It shows my parents on the trunk, their children on the branches, and the grandchildren on even smaller branches. It is a painful reminder for me now. I relate more to the photo below. A healthy tree growing out of what survives from the wreckage of a previously standing tree.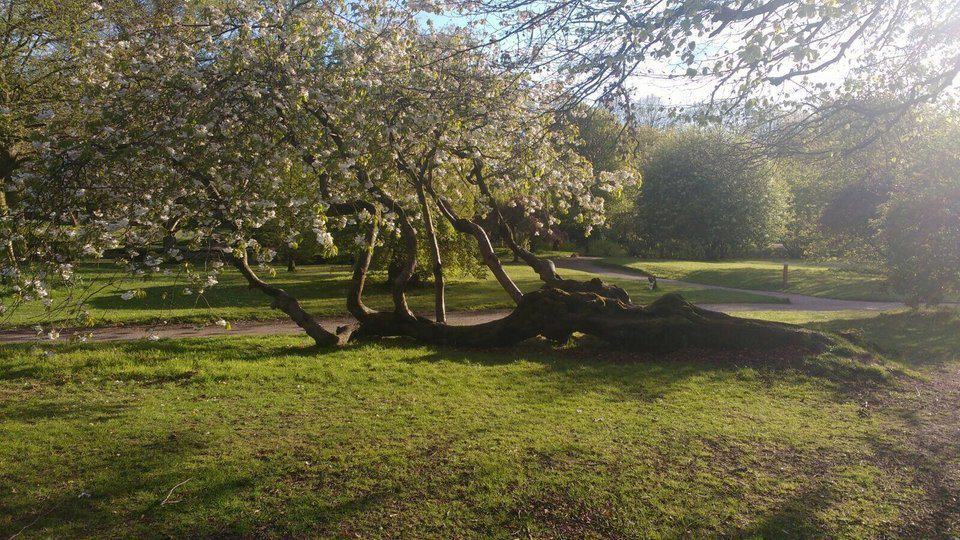 Lamentation
This time of year we tend to focus on the glory of the incarnation. God becoming a man! Angels singing! Wise Men giving wonderful gifts! The light of the world! The bright star in the night sky.
To be honest, I struggle to relate to that today. It isn't the baby in the manger, innocent and free of pain, to whom I relate. It is the man of sorrows, despised and rejected, acquainted with grief, from whom people hide their faces. (Isaiah 53:3) It is our blameless God for whom the people called, "Crucify him!" (Luke 23:21 & Matthew 27:22) It is the Lord who was betrayed and abandoned by those closest to him. It is the Jesus who endured the cross and is an example that we not grow weary. (Hebrews 12:2-3)
But, I am weary. Like Jesus, I weep. Still, the Psalms promise, "The LORD is close to the brokenhearted and saves those who are crushed in spirit." (Psalms 34:18)
My spirit is crushed.
I once was told by a sibling that they found my use of the word "grace" offensive. I've never understood this because I was using it rather traditionally. All I could guess is that it was the idea of extending grace to me that she found so offensive. But, Christ does not find extending me grace offensive. His grace is sufficient and made perfect in my weakness. (2 Corinthians 12:9) He came from the Father full of Grace and Truth. (John 1:14) It is by that grace that I am redeemed. (Ephesians 2:8) Grace and peace are abundantly mine through knowledge of the Father and the Son. (2 Peter 2:1) And through him, I can endure all things. (Philippians 4:13)
Endure I will…though not without tears in my eyes.
I cry out, "God heal my pain. Work a miracle in my life, in the life of my family. Teach us to love. Teach us to forgive. Teach us to embrace the image of God in us and reflect Your love. Help us to not emulate the prince of this world. Forgive us."
This essay is from our Anastasis Series where we resurrect articles from the past that are either still relevant today. This piece was first published on December 19, 2018, and has been lightly edited and updated.
**********************************************************************
Epilogue
I've struggled with writing this essay. It is VERY personal. The tendency in our culture, even in the church, is to hide our pain. That is even more true when that personal pain involves family. I've been shunned by extended family members who have been fed a false narrative and I've been told essentially to "stay quiet." It is not my intent to air anything. I wrote about transparency on the About Page of this website back in 2011. Today it still reads, "transparency is one of my core values, and as such this website seeks to be transparent." I seek to honor that. Further, I know that in these times of commercially touted joy that many are hurting, many are broken, and many are just as weary as I am.
I pray that my lamentation can help any such readers to know that they are not alone in their pain and remind them of God's love for the brokenhearted.
And then, of course, there is this quote below that has spoken to me for several years now.
"You own everything that happened to you. Tell your stories. If people wanted you to write warmly about them, they should have behaved better."  Anne Lamott
Of course, I should mention that not all is dark. For us, our friends have been lights. They have ministered to us meaningfully and generously as we navigate this time.
Follow-up post:
About Post Author