The Christian music scene has had its ups and downs through the years.
Sometimes those ups were fun in their own right – as anyone who was the right age at the right time to match the rhythm of their head with the rhythm of DC Talk's belly can attest – but others were downright cringeworthy, as anyone who was du-du-down with the DC Talk can attest. Occasionally, truly talented acts like Jars of Clay would even briefly cross over into the mainstream and get to open for major acts such as Sting.
But no matter how musically gifted or lyrically milquetoast the Christian musical scene was after it blossomed in the 1980s and 90s, it could never match the sheer accidental strangeness of its 1960s and 70s precursors.
Some of the records in question were simply innocent, naive of how naming their record after a beloved gospel song could later be reinterpreted in a more disturbing manner. But nonetheless, there are many, many, many examples of, "He touched me".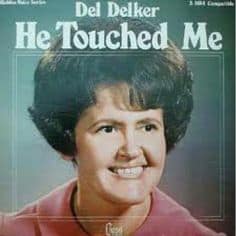 First there's this one, where her smile looks like a grimace as she realizes she's actively being touched.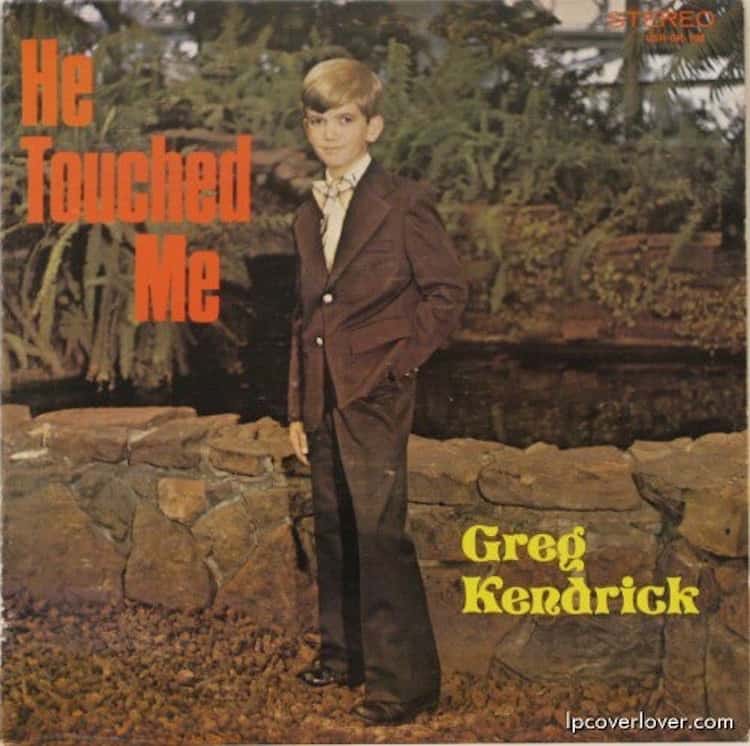 And this one just seem especially off-putting, with the little boy's apparently resigned face. One can assume that he just wanted the photographer to take the photo already, but paired with the title and 50 years of retrospect it seems meloncholy.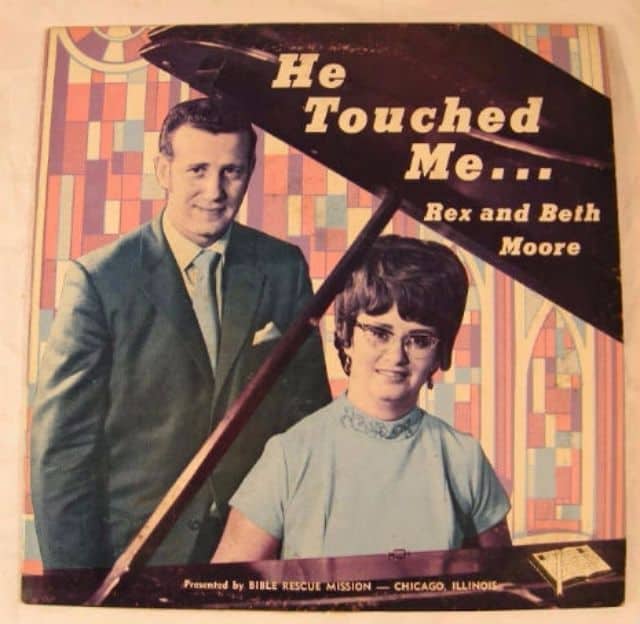 With this album, the husband's hesitant smile somehow makes it more uncomfortable.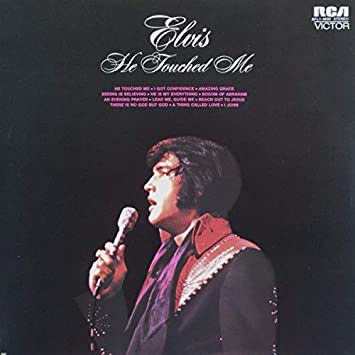 And lest those unfamiliar with the song's popularity among southern Gospel singers think it was a minor hit, apparently even Elvis was touched.
Some people weren't content with being touched, however. Others wanted to reach out and touch.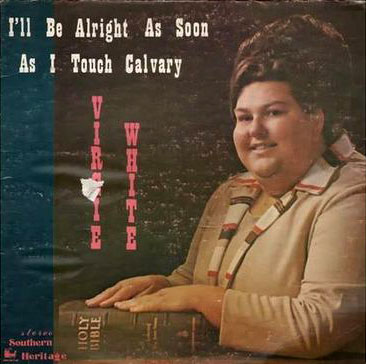 But those days weren't all about spiritual-tactile issues. Sometimes God did more than touch. Sometimes God straight up tied people's hands and feet to a heavenly paddle and puppeteered them as Christian singers, as evidenced by Ava Kathaleen Beaty's "God's Chosen Puppet".
But maybe Beaty was just responding to the musical tastes of the time. Puppets were huge in Christian music of the era. For example, Eric the Christian dummy had more than one record. He's seen here apparently taking a nap in a park with Beverly Massegee.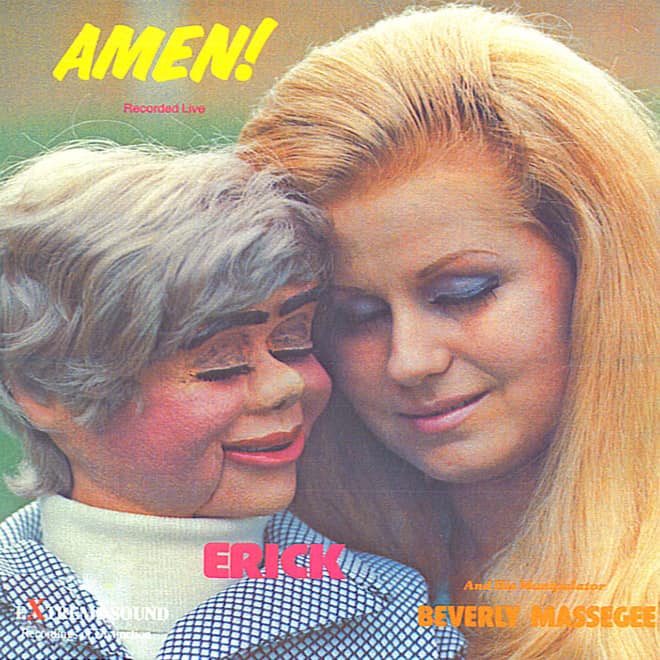 Meanwhile, Uncle D apparently liked to spend his weekends reading the family Bible with dummies Charlie and Sheila in the church sacristy.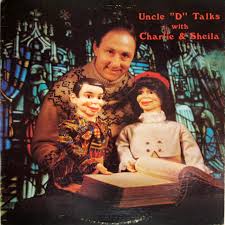 Grace and Wilbur took ventriliquism to the next level, however, and included not only multiple dummies on their record but a couple of full-size furries as well, warning them all about the immanent eschaton.
Speaking of the rapture, the end of the world was a big topic in those days, and of course many musicians were just as obsessed with it as Hal Lindsey. It's not clear if this record is actually musical or spoken word, but there's something strangely entrancing about the giant Jesus occupying as much of the skyline as an exploding city while magnetically pulling people toward Abraham's bosom.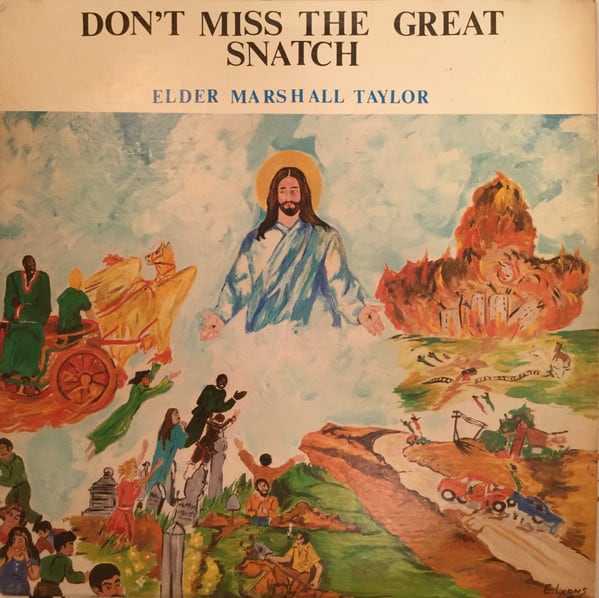 But Jesus wasn't the only one occupying the skyline artwork over freshly pressed vinyl. Old Scratch himself was also a willing model, and as this record attests, he's definitely real.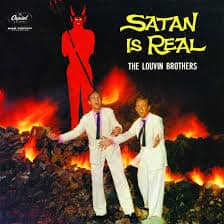 The most puzzling part of the "Satan is Real" cover is that the brothers who made the record appear to be standing atop a volcano in all white while singing opera. They don't seem terribly disturbed that Satan is standing behind them with a slightly annoyed expression on his face. It's like he's the headline act and he's got places to be, but he can't take the stage until these guys wrap it up already.
Meanwhile standing on things that don't make sense may have been a pastime in the Christian music studios of the past, as evidenced by this boy and girl  perched atop a giant ghost's ectoplasmic palm; she seems kind of excited about it while he's not entirely sure but he knows a smile is required.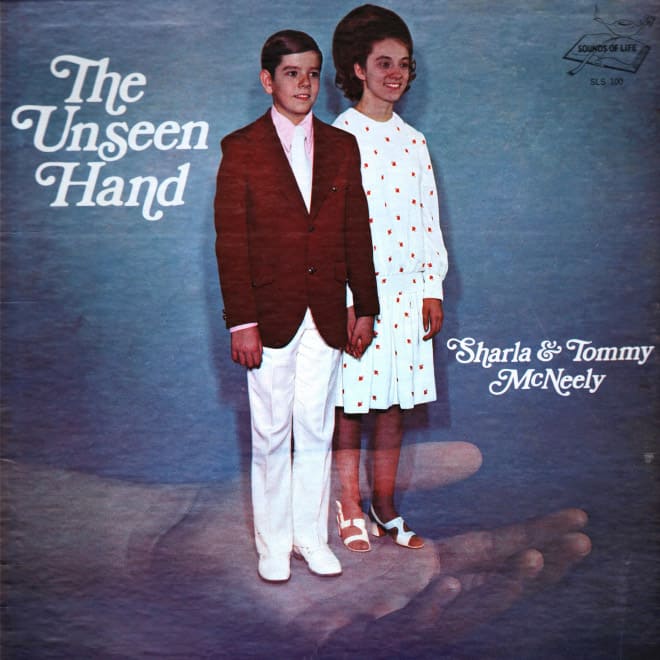 Then, of course, there are the unique ministry records. Those who have ever seen The Power Team shred a phone book in Jesus' name know the power of the unique ministry. If a strongman isn't what one is looking for, however, there's always the dynamic combination of martial arts and Pentecostal power one can find in The Karatist Preacher.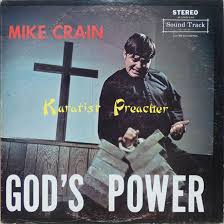 The days of the strange Christian specialty record have long past and are now starting to fade from memory, just as the cardboard covers that held each pressing are also fading and falling apart. And while some may laugh at what they once considered cool in the days before Christians tried to be cool, they can at least rest in the knowledge that they never made the cover for DC Talk's "Nu Thang".
About Post Author