Gallup's annual Mood of the Nation survey shows a nation struggling with its identity.
Out of eight aspects of U.S. life included in the Gallup survey, a majority are only content with two: the overall quality of life and the opportunity for a person to get ahead by working hard. But even those areas have dropped 15 and 12 points respectively since 2020.
In all other areas, the majority of Americans are not satisfied. All eight surveyed categories have fallen since 2020. The satisfaction with the size and power of the federal government has been the most stable with only a six-point drop — though that satisfaction rate stands at 32 percent.
Only 30 percent of Americans are happy with the country's system of government or wealth distribution; both dropped 13 percent from two years ago. Dissatisfaction with the power of corporations has also dropped 15-points to 25 percent. While the influence of organized religion has fallen to 48 percent, it remains the area with which Americans are the third most satisfied.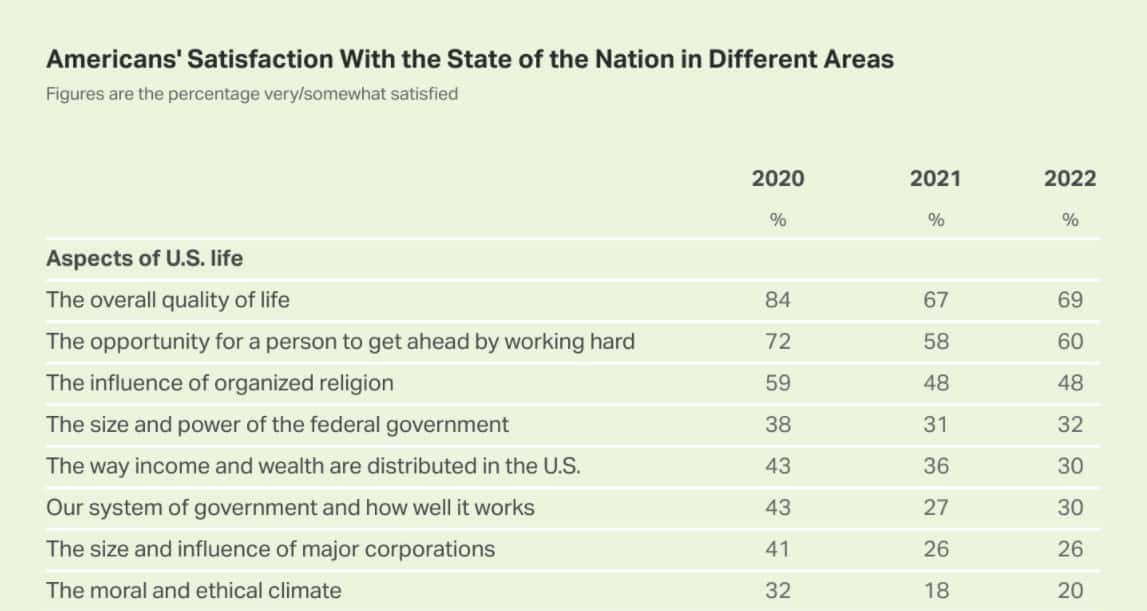 The Gallup poll additionally highlights the growing disparity between Republican and Democratic views of the nation. From 2021 to 2022, the two parties' views greatly diverge, with only 18 percent of Republicans satisfied with the state of the economy, a 38 percent drop from 2021, while 58 percent of Democrats are satisfied with the state of the economy, a 28 percent increase. The same trend of divergent perceptions can be seen in other areas, such as the economic reward for hard work. Democrats had a 15 percent increase in satisfaction with the quality of American life while Republicans were 11 percent less satisfied — but both are still more satisfied than not.
Few Republicans (23 percent) and Democrats (35 percent) are satisfied with our system of government and how well it works.
When it comes to satisfaction with the influence of organized religion, Republicans are 61 percent satisfied while Democrats are only 37 percent satisfied.
Read the Gallup report here.
About Post Author