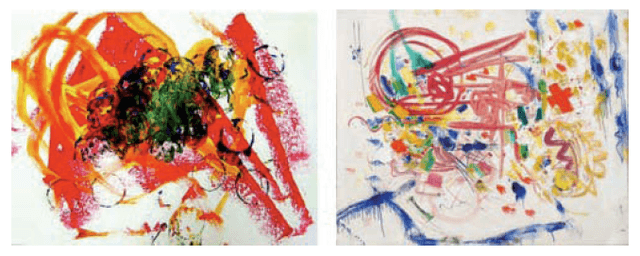 The images above are from Psychology Today:
"My monkey could have painted that." Really?: Can monkeys match humans at abstract art? by Matthew Hutson in Psyched!
Maybe, maybe not.
I think that every artist who works abstractly has heard this kind of pejorative. I distinctly remember an exhibition in Sacramento, California where I saw a teenager look at my painting and say, "I could do that!" Maybe, but it took me several years of painting to figure it out. The reality is that artwork is often much more difficult than people imagine. As Brancusi said, "Simplicity is complexity resolved."

I felt much better about this after an exhibition I had at Ouachita Baptist University in Arkadelphia, AR. The exhibition was well received and during my artist talk, I explained my painting method. Donnie Copeland, the painting professor at Quachita, later told me that after I left some of his students tried to replicate my painting process. It sounded so easy but they were apparently completely unable to do it. I have to say this made me feel good. Sometimes artists take years of training and practice for granted and forget that a Monkey cannot do it.
As a professor, I often have students react against abstract art. To be honest, I cannot be too hard on them because I remember having similar feelings early in my college career. Typically, I end up telling them a story that I read years ago:
There was an ape that worked with a curator doing paintings. The curator then took these paintings and entered them into art competitions and the ape won some prizes.
On the face of it, this sounds like an indictment of abstract art. But, the reality is that many of the most important artistic choices were made by the curator, not the ape. The human would watch over the paintings and then take away the paper or canvas when he thought the ape should be done. Further, when all the works were done it was the human who sifted through the paintings and chose the ones that were the most successful. I argue that in a situation like this it is really the curator, not the ape that is the artist. In a very real way, the ape was the human's medium. I tell students that two of the most important things they need to learn are self-criticism and self-editing; but, in the story above the ape did neither of these it was the human. This doesn't always convince students. But hopefully, it is a start. I do not mind if people do not like abstract art. Hopefully, though, they can learn to appreciate the skill it takes to produce it.
About Post Author