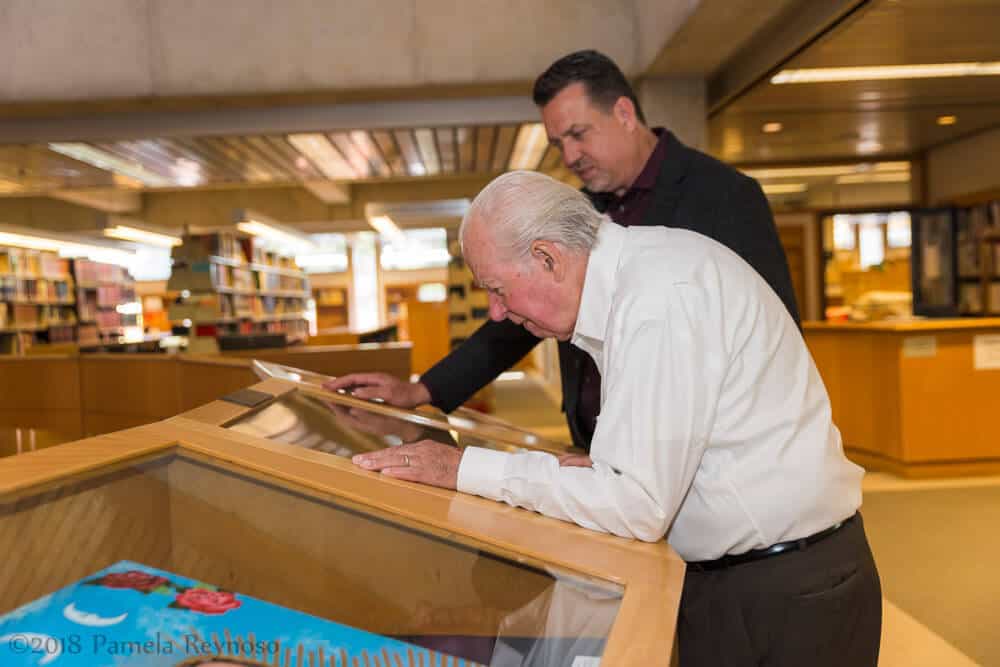 I've had the unique experience this year of my personal life and my academic life intersecting. My father is Cruz Reynoso who is a noted civil rights activist and was the first Latino on the California Supreme Court. But before he became a lawyer, he wanted to be an artist. He spent the last couple of years of high school and the first two years of college living with his high school art teacher while working for her commercial artist husband. Though he eventually decided that law was a better avenue for him to address the injustices he experienced in society, his art never fully left him.
During my father's time on the California Supreme Court, he would often sketch on his legal notes as he sat behind the bench. The images were of others in the courtroom either lawyers, witnesses, or simply visitors to the courtroom. Over a decade ago, these drawings were re-discovered and I thought they could be made into an interesting show. However, I soon moved to take an academic position across the country and the project fell to the side.
The Personal Meets the Academic
A few years ago, I returned to school to work on my Ph.D. in art history and aesthetics at the Graduate Theological Union in Berkeley, CA. My research looks at the far too ignored intersection between religion and art in the modern and contemporary eras. Part of my interest has been this intersection in Chicano art. In many ways, Chicano art is very different from mainstream art because its audience is often the deeply religious Chicano community, not secular galleries and museums as is typical in the art of the last 100 years. Looking at Chicano art brought me back to my father's drawings. As part of my Ph.D. work, I curated an exhibition centered on my father's drawings but placing them within the larger context of Chicano Art.
The exhibition, entitled View from the Bench: Social Justice in Art, Law, and Religion of the Chicano Community opened on June 19th and will run through September 20th at the Graduate Theological Union's library. The exhibition opening was well attended for a summer show at an academic institution. What I found even more encouraging, though, was the opportunity to guest lecture for a couple of UC Berkeley classes. In early August, both Chicano Art and Chicano Religion classes came to the show where we spent two hours at the show, lecturing, and discussing. It was an invigorating time.
Exhibition Methodology
Art exhibitions of this sort inevitably take on an impossible task. The first goal of the exhibition was to highlight my father's drawings. This was relatively simple. The more complicated part was to show that work in the context of Chicano art and it's intersection with religion and social justice.

Part of my challenge was logistical. Because of time and budgetary concerns, I limited the exhibition to artists who are in, or near, the San Francisco Bay Area or whose work is in Bay Area collections.
Even though the exhibition is on Chicano art, it was still important to focus on diversity from within the Northern California Chicano community. As a result, the exhibition includes both well-known artists such as Malaquias Montoya and Juan Fuentes along with lesser-known and emerging artists. Also, quite intentionally, there is strong gender diversity with seven male and eight female artists as well as age diversity with artists who range in age from 20-years old to their late 80's. All of this helps to provide the exhibition with both a sense of historical significance and contemporary relevance.
Imago Dei
One challenge in organizing this exhibition was how to tie my father's drawings from his days on the Supreme Court with the themes of Law, Religion, and Social Justice. Law was simple as these drawings were executed on his court notes. Social Justice, likewise, with its close connection to legal activism was an easy connection.
The more difficult connection was to connect his drawings to religion. He was raised in the Catholic church and he spent over fifty years attending Baptist churches with my mother. I have no doubt that the religious ethic he learned as a child and which was reinforced throughout his life affected his activism and his art. Historically, there is a clear connection between Chicano social activism and religion.
The connection to religion became clear, though, when I thought about the Christian concept of Imago Dei, the image of God in humanity. The idea, in simple terms, is that humanity was made in the image of God and as such each and every human has inherent dignity as His "image bearers." In my father's drawings, that dignity is shown whether he is depicting a troubled teen sitting in the courthouse gallery or an attorney who has practiced law for fifty years. The drawings, I believe, are evidence of his understanding of humanity's inherent dignity and his search to find that dignity in every person.
Art is Utopian
One of the members of my Ph.D. committee, art historian Dan Siedel in his article "Altars to the Unknown God: Modern Art for Modern Christians" claims "Artistic practice… is utopian. It recognizes that the world is not as it should be." I reflected on this a lot while I was organizing the exhibition.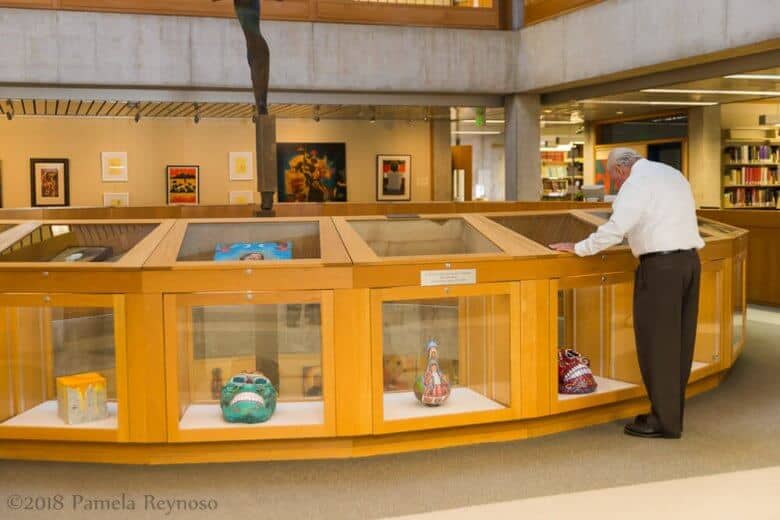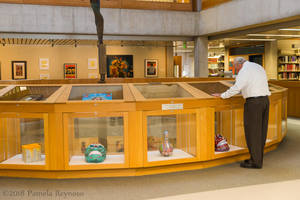 There is a significant portion of Chicano art which is depicting the injustices of society. How can art, which shows the brokenness of humanity, in fact, be utopian? How does recognizing the brokenness of the world make it utopian? I came to the conclusion, however, that it is.
Chicano Art is not utopian because it shows a world without suffering. It is utopian because it looks upon that suffering with empathy. In today's world, I think, the lack of empathy leads to much of our social injustice. The world "as it should be" is not a world devoid of suffering. It is a world where we share each other's burdens. A world where we see the inherent dignity of those who suffer and empathize with them. A world where we come alongside them in their struggles.
Artist Roundtable
Since the exhibition opened during the summer, we decided to hold a closing event on September 20th near the beginning of Hispanic Heritage Month (Sept. 15 – Oct. 15). The event is from 5:30-7:30 pm at the GTU library. The event will begin with a screening of the documentary Cruz Reynoso: Sowing the Seeds of Justice with documentarian Abby Ginzberg present. Following the screening, there will be an artists roundtable with several artists in the exhibition.
Exhibiting artist include: Cruz Reynoso, Malaquias Montoya, Andres Cisneros-Galindo, Xochitl Nevel Guerrero, Yadira Cazares, Maria Sanchez, Juan Fuentes, Anna Alvarado, Julie Zarate, Gustavo Reynoso, Liliana Navarro, G. Billie Quijano, Robert Chavarrin Guerrero, Rondall Reynoso, and Valerie Medina.
Below is a video of the artist roundtable:
Enjoy this photo gallery from the exhibition and opening. Images courtesy of Pamela Reynoso.
About Post Author