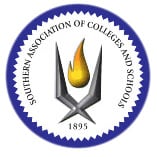 The Southern Association of Colleges and Schools (SACS) just voted to place four institutions on probation and to end the accreditation of another institution. Inside Higher Ed focused primarily on two Southern Baptist colleges in their story about this decision: Brewton-Parker College in Mount Vernon, Georgia and Louisiana College in Pineville, Louisiana. These two Southern Baptist institutions face the most serious issues. SACS has chosen to rescind Brewton-Parker's accreditation, a decision that places the financial viability of the school in doubt, and Louisiana College (LC) has been placed on probation only six months after being removed from "Warning" status.
My familiarity with Brewton-Parker is only passing. I know that Dr. Tim Searcy who was the Vice President of Academic Affairs at Louisiana College when they were placed on warning status went to Brewton-Parker to help them with accreditation issues. Searcy has now left the school to pastor in Kentucky; but was the Vice President of Academics when the decision to revoke Brewton-Parker's accreditation was made.  My second familiarity comes from the school's infamous president Ergun Caner. Dr. Caner has been publicly proven to be a liar (summary here, details here). Essentially, Caner lied about his Muslim background post-9/11 which positioned him to become an evangelical starlet. He then rode that star status all the way to the presidency of a college. Surprisingly, the Brewton-Parker Board of Trustees seems to have selected Caner because of the controversy surrounding him not despite it.

What is interesting to me is that the two institutions that are in the most trouble with SACS are both Southern Baptist institutions and both have serious integrity issues especially in the president's office. Things finally got so bad because of Joe Aguillard's leadership at LC that the board removed him. But, David Hankins, the convention's Executive Director, remains and his influence is also a major reason why LC is on probation.
Another connection that these two institutions have is that they have both become rabidly anti-Calvinist. Maybe there is no connection; but, I can't help wondering what is up with the anti-Calvinist movement in the Southern Baptist Convention when academic problems and issues of integrity are so closely associated. Ultimately, I wonder if parts of this anti-Calvinist movement are about theology at all or if they are simply about power.
Related articles
About Post Author