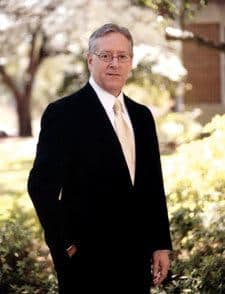 This semester I'm teaching five classes at three different institutions plus working on my Ph.D. So, while have been getting ready for the semester my writing on Faith on View has been pretty limited. Few things, however, bring out my writing juices like Louisiana College news. For those of you who aren't familiar with the situation at Louisiana College, you can catch up here. The short version of the story is that for the last nine years Louisiana College has been led by Joe Aguillard who has been proven to have serious ethical issues including lying, forgery, vindictiveness, and more. An independent investigation by a law firm hired by the former Chairman of the Board of Trustees found that there was ample cause to fire him, an audit of school finances found serious financial control issues, and an investigation by the Southern Association of Colleges and Schools resulted in Louisiana College being placed on probation for Institutional Integrity among other issues.
In his song, The Change, Steven Curtis Chapman sang, "What about the change, What about the difference, What about the grace, What about forgiveness. I want to live a life that's showing, I'm undergoing the change." Chapman contrasts this to our natural way of thinking where life revolves around us but we still employ Christian trinkets like key chains and bumper stickers despite any real evidence of change. After the last few years, LC needs to demonstrate the change and not just rely on the bumper stickers. The school needs to demonstrate its contrition.
But, Aguillard has been protected by the majority of the Board of Trustees and the Executive Director of the convention. Rather than firing him for his immoral conduct they provided him with a golden parachute and gave him the title of President Emeritus. This week in Chapel the school chose to open up the school year with a Chapel dedicated to honoring Aguillard.
"The greatest single cause of atheism in the world today is Christians: who acknowledge Jesus with their lips, walk out the door, and deny Him by their lifestyle. That is what an unbelieving world simply finds unbelievable." Brennan Manning
Almost a year and a half ago a wrote a piece, 
Louisiana College…Moving Forward
, which outlined a path for Louisiana College to move past the controversy with Aguillard and to regain its ethical and academic standing. The first step was to remove Aguillard from the presidency which thankfully they have done. The second step, however, was to publicly admit wrong. Which they have not done and there is no indication that they will. Rather than acknowledging that wrong was done LC continues to hide behind false spirituality. In fact, when honoring Aguillard, former Chairman of the Board Leon Hyatt said, "probably Dr. Aguillard is the most criticized president the college has ever had. Why? Because, like Jesus, he told it like it is." I understand this is willful deception on Hyatt's part. But, to think that those in Leadership in the Louisiana Baptist Convention are willing to compare a proven, documented liar like Joe Aguillard in a positive light to Christ Jesus is sickening!
But as much as I want to blame Joe Aguillard and leaders like David Hankins who used Aguillard to accomplish his goals and then tossed him aside when Aguillard dared to privately question him (yet another thing Aguillard lied about doing), the real problem is those in the pews. The Towntalk new paper showed a video in their article about the event which showed thunderous applause from the audience in favor of Aguillard. Social media, however, showed a different story.
The sad simple truth is that Louisiana Baptists continue to let the leadership of the LBC get away with unethical behavior. Some will speak but very few. A student protest last year which had 50 people committed only actually had 8 students willing to take the risk. That is indicative of what I have seen in the churches. People are unwilling to stand against the lies. In fact, they continue to tacitly support the lies. Despite all that has come out these last two years about Louisiana College and the Louisiana Baptist Convention churches still support them and send their students to LC. Despite LC being on probation in part for issues of integrity and that there is no indication that LC wishes to change their devious ways parents continue to send their children to Louisiana College. Reports are that this years incoming freshman class is above average in size.
There is a powerful quote by Brennan Manning which appeared in a D.C. Talk song almost two decades ago, "The greatest single cause of atheism in the world today is Christians: who acknowledge Jesus with their lips, walk out the door, and deny Him by their lifestyle. That is what an unbelieving world simply finds unbelievable." If this is true, and I believe it is. Then what we see from Louisiana College is not a school working for the cause of Christ. What we see is a school that is a part of the greatest single cause of atheism. Yet, LBC churches continue to send money to support the school and parents continue to send their children. LC in the name of Christ causes atheism and those in the LBC pews either look the other way or continue to support it…repent!
*ETA after I published this article I saw that LC Board member Jay Adkins wrote a blog post arguing also that nothing has changed at Louisiana College. You can read his insight into how the LC & LBC leadership continue to behave improperly here.
About Post Author