A top state leader is drawing criticism and questions after he said he would not have appointed someone to the state's top health position if they did not share his Christian values.
The statement in question came after Missouri Gov. Mike Parson's choice for director of the Missouri Department of Health and Senior Services, Donald Kauerauf, was effectively shown the door after the state senate declined to take up discussion of his nomination. Hardliners in the Senate apparently questioned if he was conservative enough even as he told them he opposed vaccine and mask mandates.
In a statement announcing Kauerauf's resignation, Parson spoke against the Senate's decision, saying the senators' actions were based on rumors they'd heard online. The part of the statement that raised eyebrows came in the fourth paragraph:
Don is a public health expert that is on record opposing masking requirements and COVID-19 vaccine mandates. He is outspokenly pro-life and morally opposed to abortion. Missourians know that I share these beliefs and would not have nominated someone who does not share the same Christian values.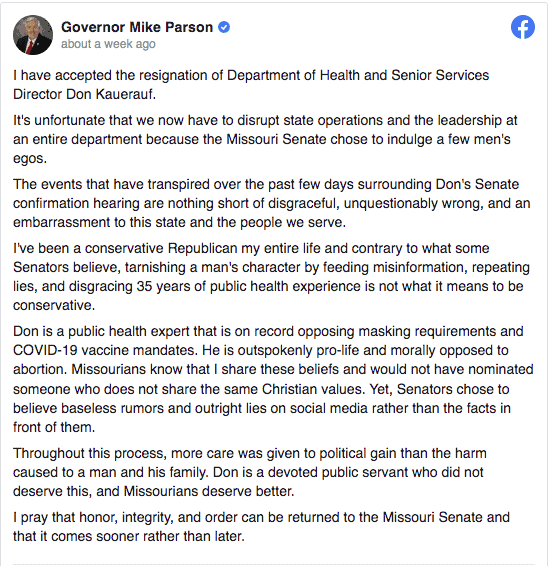 At least one member of the state senate, Rep. Adam Schwadron, a Republican who is Jewish, chafed at the wording, posting on Twitter, "I'm curious Governor, is this a standard you traditionally use? Article VI of the US Constitution strictly prohibits a religious test as a qualification to any office or public trust. Considering that, I then must ask the question. Would someone who is Jewish, such as myself, be considered for nomination?"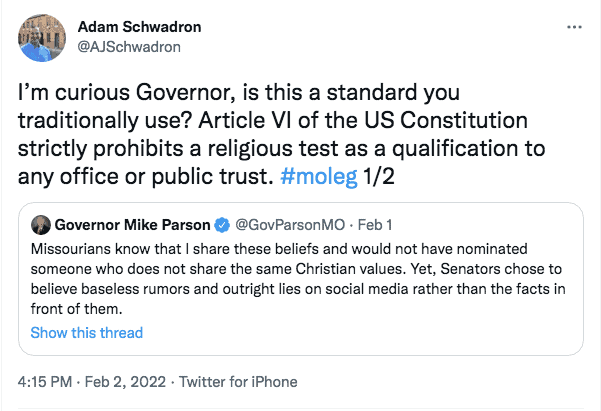 A spokesperson for the governor told the Associated Press in an email that the governor has "never required a religious litmus test."
Read the AP's report about the governor's response here.
About Post Author