I know a guy who is a really nice college student. He is personable, gentle, and loving. However, like so many Christians today his political rhetoric seems devoid of the compassion he exhibits in his life. The following exchange, which happened on Facebook, expresses thoughts by him that are similar to the sentiments of so many Christians when they speak politically. As such, this post is not really about this college student. It is about the state of Christianity and its interaction with politics.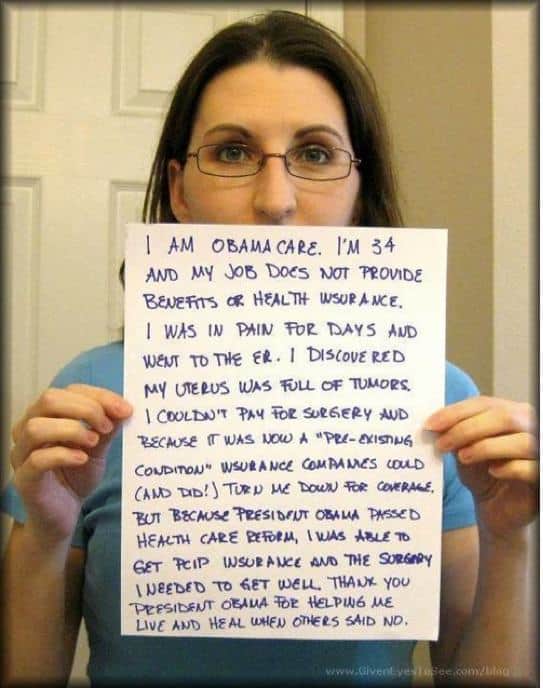 The following is edited from our Facebook interaction.
He posted this image and wrote: For all who say that Obamacare will work I give you this woman. She did not set aside the money to for healthcare in case she had a problem. No, instead she waited till she did and THEN got it!! What she got was NOT insurance!!! No what she got was a get out of jail card and this is why the program will not work.
To which I responded:
So we should let her die? Further, why do you assume that she was able to set aside the money to cover medical costs? Since her job did not provide insurance there is a good chance that it was not a high paying job. She certainly would not have been able to set aside the tens if not hundreds of thousands of dollars required for surgery. Most people who don't have insurance aren't in that situation because they have plenty of money and don't want to spend it. Sure that does happen, but should we let the exception cost us the lives of the rule? As Christians, we should be more committed to the compassion of Christ than the social Darwinism of Ayn Rand. Christ said that what we do to the least of these we do to him…do you really want to stand before Christ some day and say, "I let you die?"
In our religion, we understand that Christ desires mercy (steadfast love) not sacrifice (religious ritual). Yet somehow, when our faith leaves the church doors and goes to the public square it transforms into a graceless form of social Darwinism that imparts little grace to those who are not as economically or socially fit as we desire. When we, as Christians, are developing our social policy we need to remember that the doctrine of selfishness espoused by Ayn Rand and advocated by certain elements within today's political scene is wholly inconsistent with the Gospel. Altruism is at the heart of the Gospel . Both God's altruism toward us, who are entirely unworthy of his grace, and our altruism toward others. So, when we are establishing our policy let us not root it in people getting what they deserve. Let us follow God's lead and work for the good of others, remembering, with joy, that God does not give us what we deserve.
Update: The person in the photo is Miss M. Turner. More information about her story can be found at her blog.
About Post Author