Cruz Reynoso passed away peacefully at the Angel Lite Elder Care facility in Oroville, California on May 7, 2021. He was 90. Cruz was born in Brea, California on May 2, 1931, to Juan and Francisca Reynoso. He married Jeannene (Harness) Reynoso of Pioneer, Tennessee on September 1, 1956. After the passing of Jeannene to whom he was married for 50 years, he married Elaine (Rowen) Reynoso from Rocklin, California.
As one of eleven children born to Mexican immigrant parents, Cruz began working in the fields of Southern and Central California at the age of eight. He graduated from Fullerton Union High School and received an Associate of Arts degree from Fullerton Junior College prior to earning a scholarship to Pomona College. After graduating from college, Cruz spent two years in the Army followed by law school at the University of California, Berkeley.
Cruz had a long and diverse legal career that spanned over 60 years. He began his career as a small-town lawyer in El Centro, CA. His early aspiration was simply to be a small-town attorney and often joked that he was apparently a failure at that. He moved on from El Centro to be Associate General Counsel for the Equal Opportunity Commission. He then worked as Director of the California Rural Legal Assistance, Professor of Law at the University of New Mexico, Associate Justice in the Third District Court of Appeal, and as the first Hispanic Associate Justice on the California Supreme Court. After leaving the court in 1987, he practiced law with firms based out of Beverly Hills and New York. In 1991, he once again became a professor, this time at the UCLA School of Law. A decade later he was given the inaugural Boochever and Bird Endowed Chair for the Study and Teaching of Freedom and Equality at the UC Davis School of Law.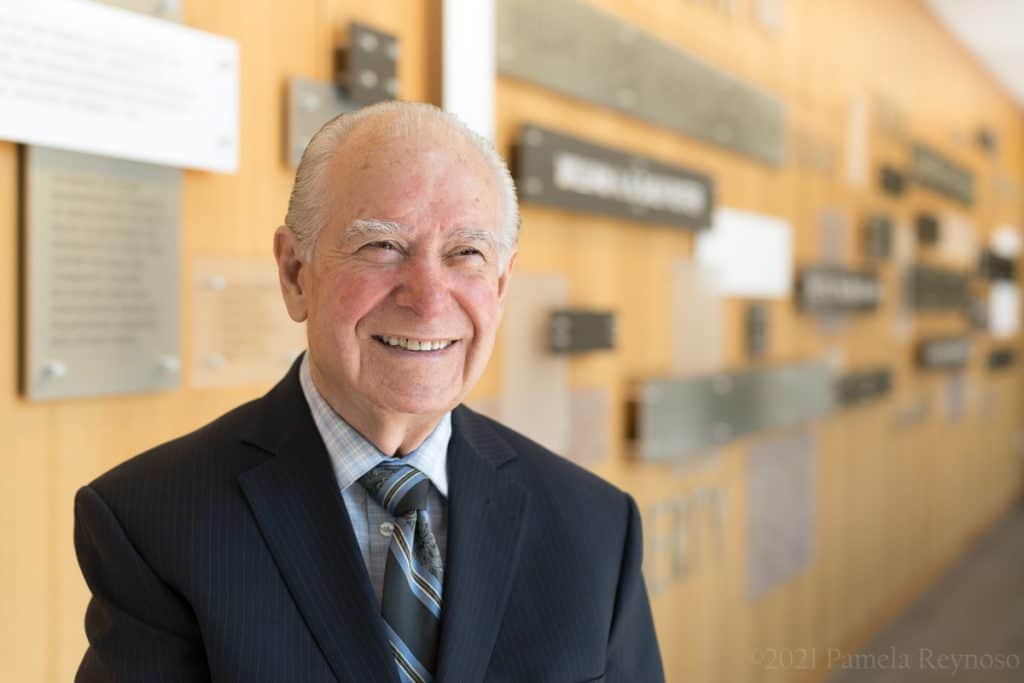 Public and community service was always an important part of Cruz Reynoso's life. His acts of public service were extremely broad, ranging from ethics advisory boards and commissions on government reform to the United Nations Commission on Human Rights. He also chaired the California Post-Secondary Education Commission, served as Vice-Chair of the U.S. Commission on Civil Rights (including during the 2001 investigation into the Bush-Gore election in Florida), and was part of President Obama's Transition Team in 2009. Additionally, he served on many boards and councils including those of the Mexican American Legal Defense and Education Fund (MALDEF), the Rosenberg Foundation, the Natural Resources Defense Council (NRDC), Children Now, and California Forward.
In recognition of Reynoso's tireless work defending "the least of these," he received eight Honorary Doctorates. In 2000, he was awarded the Presidential Medal of Freedom, our nation's highest civilian honor, by President Bill Clinton, and the Hispanic Heritage Foundation Award in Education. Later, he received the Robert J. Kutak Award and the Spirit of Excellence Award from the American Bar Association, the U.C. Davis Medal of Honor, and the Lincoln-Juarez Award from the Hispanic National Bar Association. UC Berkeley and UC Davis established The Cruz Reynoso Social Justice and Judicial Externship Fellowship and the Cruz & Jeannene Reynoso Scholarship for Legal Access, respectively. In 2016, the Sacramento La Raza Lawyers officially changed its name to the Cruz Reynoso Bar Association.
Reynoso's life was defined by deep personal character and what he called his "Justice Bone," an innate drive to do what is right. When he saw injustice he would often say that his "Justice Bone" was aching. He exemplified character, even when the commitment to character worked against his own self-interest. He was gracious in defeat, humble in victory, and compassionate to those with whom he disagreed. Despite his many accomplishments, he displayed profound humility. His "Justice Bone" led him to a life dedicated to the pursuit of Social Justice; from elementary school until well into his eighties he fought for those who needed help — whether it was the lack of mail delivery in his childhood barrio or the pepper-spraying of students by University police, he spoke truth to power.
Cruz was predeceased by his wife and mother of his children, Jeannene, and by his second wife, Elaine. He is survived by his children-Trina (Duane) Heter, Ranene (Robert) Royer, Len (Kymberlie) ReidReynoso, and Rondall (Pamela) Reynoso;  his grandchildren- Stephen, Joel, Reanna, Tarl, Drake, Kyle, Rosalyn, Jodi, Tiersa, Eden, Logan, Brandon, Selah, Zachary, Mateo, Cira, and Teigen; and two great-grandchildren. Cruz is also survived by his step-children Dean (Loudan) Rowen, and Hali Rowen (Andy Bale) and three step-grandchildren.
A Personal Reflection
It is seemingly impossible to reflect on what the life of a loved one means to you. This seems especially true with a parent. Their existence is enmeshed with every aspect of who you are. The above "Obituary" is the Cruz Reynoso whom the public saw, but it is just a small portion of who he was.  When I reflect on my father's life, my mind does not think of the public man with degrees, medals, and awards.
Below are a few reflections related to my father, who he was, and what he taught me.
He felt he was lazy
My dad was one of the hardest-working people one could ever meet. If I am honest, the downside of my dad's wonderful legacy was him always working long hours, going to meetings on many nights, and — at times — focusing more on his service to the world than his family. I learned with surprise during elementary school that other families didn't eat dinner when their Dad got home after 8 p.m. My mom told me about how Dad would come home at night and peek into the rooms to see his sleeping children. She reflected on how he felt connected to the kids by doing that even though we kids didn't even know he had done it.
When I got my first position as a professor, I had a conversation with my dad that I will always remember. I don't recall what prompted the conversation- perhaps we were talking on the phone as I was working late at the office. What I do remember is him telling me how he always felt he was lazy. That was one of the reasons he worked so much. He always felt like he wasn't working hard enough and that he should be doing more. This was astonishing coming from someone I felt was surely one of the world's hardest-working men.
As I reflected on this over the years, it occurred to me that I also know people who think they are very hardworking but who really aren't. Our self-perception can be so different from reality but it is reality, not our perception, that our families experience.
I have often thought of myself as lazy. I've always felt there was more I could do, more I should do. But Dad's comment made me think about this in a new light. I tried to distance my self-perception and look objectively at how hard I was working. Maybe, when it is 7 p.m., and I've been at work for 11 or 12 hours, it is okay to go home without feeling lazy. I am, admittedly, not good at this. In fact, it has become a joke among the students in my department that I am always in my office. I had one student who started calling my office when she needed to enter to building after hours to get into her studio. She realized I could let her in faster than security could get there. I often still feel a little lazy after taking the time to objectively figure out how long I've been at work. But, apparently,  I'm in good company.
Pursue your passion
As a college professor, especially as an art professor, I too often have conversations with students or parents who subjugate what they are passionate about for the practical.
My father was very fortunate to spend his life pursuing his passions while taking care of the practical. He originally thought he would spend his life as an artist but as a young man decided that he could help more people as a lawyer. That is what he chose to do and it worked well for him. It was what he was passionate about — the struggle for Social Justice.
I distinctly remember a conversation with Dad as a young person. I don't remember how old I was or the context of the conversation. But, I remember being in a hotel room and Dad telling me how he had been fortunate enough to spend his life pursuing his passions and he encouraged me to do the same.
Following that advice hasn't always been easy. Art, art history, and theology are often not the most lucrative passions and they are passions that often fit uncomfortably together. But, I have followed them, thanks to parents who valued education and dedicated themselves to helping their children through undergraduate and graduate degrees.
His advice was wise. I have found a good life where my work as a professor lives at the intersection of my passions.
I think often about the human potential that is lost to the brutal demands of simply surviving. There are brilliant people all over the world who are so mired in survival mode that they have little opportunity to think of their passions, much less pursue them.
Thanks in large part to my father, I live a privileged life. He helped create a world of opportunity for me and taught me to think broader and deeper about the world and my place in it.
Do right
We live in a pragmatic world where so much of our focus is on what works. We also live in a world where we are taught to focus on ourselves. Those two, together, can be a dangerous combination. That isn't the world I was raised in, at least not at home. My Mom was one of the most gentle, caring people in existence. She routinely bent over backward to help people in need in our small rural community. My Dad was focused on the broader world but with much the same intent.
I don't remember my parents ever asking what they got out of helping people; it almost always cost them time, money, or emotional energy. They simply sought to do what was right and help where they had the ability.
I know history well enough to know that seeking to do right often doesn't get rewarded. I often surprise people when I tell them that the story of John the Baptist is the Biblical story I find the most encouraging. John's story ends badly with him beheaded by Herod. Not exactly the American Dream. So why do I find it so encouraging? John was a person about whom Jesus said there was no better person on earth. In our culture, we often misjudge the goodness or worth of activities based on what we see as the "fruit," which is really just temporary success, often measured financially. John the Baptist's story is a good reminder that even the best of people can meet a poor end. There are so many similar stories throughout history.
Dad's story is different. Through the fate of history, he happened to live at a time when his efforts to do right were appreciated. His civil rights work was generally applauded and well rewarded. The fiasco of politicization of the California Supreme Court in the 1980s is certainly one major exception, but by in large his efforts to do right were rewarded.
If his efforts hadn't been rewarded, I have no doubt he would have still continued on the same path—the path of doing what was right. I've seen so many people let their character succumb to outside pressures. As a child in the 1980s, I saw my dad withstand those pressures. There were political and strategic moves that could have been taken to avoid what happened to the Supreme Court, but he stuck with his principles.
Throughout his entire life, I have watched my father be guided by his own sense of justice, regardless of whether that led him to a popular position or not.
One of the greatest lessons I've learned from Dad is to do right, no matter the cost. I have heard my dad on the phone defending me from people who were attacking me. It was affirming to hear him declare that he was proud of me for who I was and what I had accomplished. But before that, there were two times in my life when my father told me he was disappointed in me. The first was when, on a personal level, I had not done what was right. The second was when I decided not to go to law school. I had decided to follow my passion. A friend of Dad's later told me that Dad was proud of me for that. But, that decision also led me to some situations where doing right was not the easy choice. I watched many around me take the easier path. But, I sought to follow Dad's example.
One of the Bible verses that most resonates with me is Micah 6:8:
[God] has told you, O man, what is good;and what does the Lord require of youbut to do justice, and to love kindness,and to walk humbly with your God?
Part of me wishes I could say that this verse resonates with me so strongly because I am so in tune with the heart of God. I chuckle a little as I type that because I know all too well my failings. But, I was blessed with parents who modeled a passion for justice, prodigal kindness, and profound humility. I thank God for the example they taught me and I can only hope that others can say that my life reflects the lessons they taught me.
Humble
One of the traits everyone who knew Dad comments about is his humility. It isn't that Dad was overly self-deprecating or had no sense of what he accomplished during his life or didn't realize how clever he was. It was more that he didn't feel those things embodied the purpose of life and so he didn't think highly of himself because of them.
My dad fought for justice well into his 80s, but more importantly, he saw dignity in every person no matter their position in society. He was no more impressed by a powerful politician than he was by a farm worker or custodian. He recognized that he had the opportunity to help others and he saw that as a responsibility and a privilege not as a product of his own greatness.
We've all known people who overestimate the significance of their accomplishments. Dad's accomplishments were significant but he did not overestimate his importance. He merely felt that he was honored to serve others.
My mom used to tell the story that one of the things former Governor of California, Jerry Brown Jr., liked about Dad was that even though he was a professor and judge, he drove an old Plymouth Valiant.  I don't know what year of car it was, perhaps, the early 1960s, and he was still driving it in the 80s. He actually drove it until its engine caught fire in a state-owned parking garage. I don't know how impressed Jerry Brown really was that Dad kept driving that old car rather than indulging in his success and buying a new luxury car, but it certainly was a good story and it struck at the heart of who Dad was.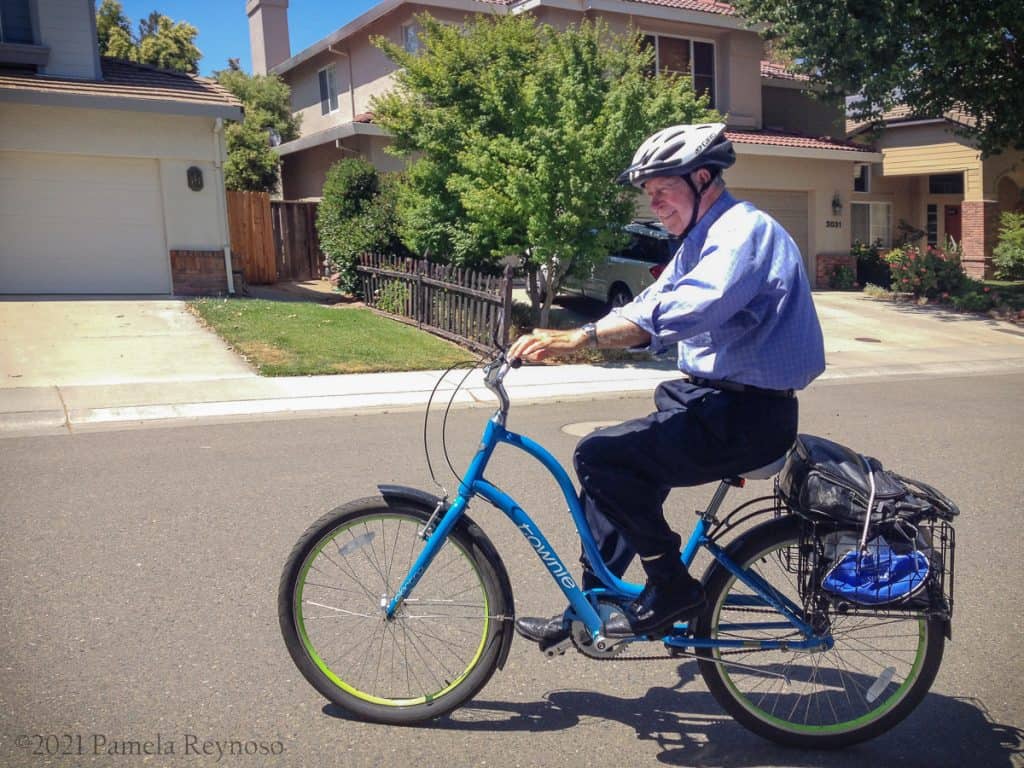 He wasn't about pretense. He followed the Valiant up with an inexpensive Saturn Coupe and then a Toyota Corolla. Now, my parents did have nice cars at times. In the late 1980s, they bought a Lincoln Town Car, in no small part because there were very few cars that would fit me, their 6'5″ son, comfortably in the back seat. My mom drove that car until her death in 2007. Later, my dad got rid of his Corolla and bought a used Lexus. This wasn't because he wanted a fancy car but because he and his second wife were both older and they wanted something quieter, with less road noise, so they could actually hear each other when they were talking in the car.
It strikes me that Dad was never more proud of his nice cars or his simpler cars. They were just cars, tools that fit a need. I think in some ways, that exemplifies Dad's humility. He was a smart man and knew full well what he had accomplished. There was certainly satisfaction in that. But, he was just playing his role doing what he could with his gifts and his place in history to make the world a better place. He was simply doing the right thing as he was able.
Chicano Royalty
The subheading "Chicano Royalty" may seem odd after reflections on doing right and humility. But, I think it ties in well if you will humor me.
A few years back, I was presenting an academic paper at the West Coast meeting of the American Academy of Religion (AAR). I went to a session where I met a Chicano Studies professor at one of the top public universities in the nation. Over the course of our conversation, it came out who my father was and he called me Chicano Royalty. It was weird to me.
I've had similar instances over the years. A couple of years ago, I was helping my dad try to navigate a real estate problem. During the course of the initial meeting with the lawyer, I spoke to the lawyer out of earshot from Dad and he asked, "What was it like having your Dad as a father?" That wasn't the only time I've had this type of question asked yet it always strikes me as odd. Dad was just… Dad. He was my father and that was all I knew. I went through every awkward stage as any other kid. My dad went to work and came home. We watched TV together and swam in the summer. I played basketball in high school and he tried to make every game he could. When I played in college he would travel across the country to watch games. He worked a lot. But, many fathers (and mothers) do.
I spent 13 years in a rural public school system. I got teased and bullied and I teased others. I never felt like royalty. I never felt like my family was anything particularly special. He was just Dad and we were just us, at least from my perspective.
Dad grew up in a large Mexican family with a farm working father in Southern California. Mom grew up in the Appalachian hills of East Tennessee. In some ways, their lives were worlds apart. But, Dad always reflected on how similar the two cultures were. Their principles were both rooted in poor working communities where they felt a responsibility to others. Dad would recall how, during the 1930s, his mother would feed people who came asking for food. They were a poor family with a lot of kids, but Dad's father was working and they felt fortunate for that. His mom felt that since they had enough to eat, she should pass that blessing on to others.
I saw that from my parents their entire lives. We weren't royalty. Dad had been fortunate enough to play a powerful role. He was honored to have done it. He appreciated that others appreciated his work. But he was just a man who loved justice and always sought to do what was right.
How my parents met…
As I was writing the previous section, it reminded me of a funny story. As I mentioned, Mom and Dad grew up in geographically very different parts of the United States. People often wanted to know how they met.
Here is the story and then the funny twist.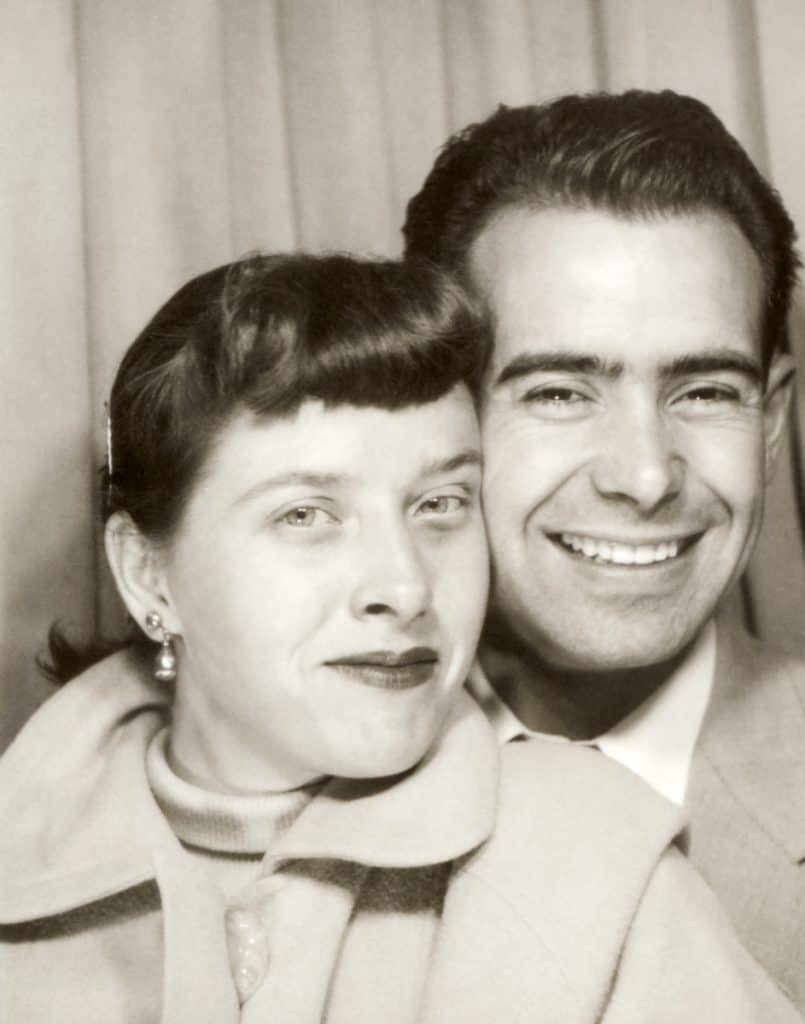 After college, Dad volunteered for the Army. He volunteered to go abroad and assumed that since he spoke Spanish they would probably send him to Latin America. Instead, they sent him to Washington, D.C., where he worked for the Counter Intelligence Core (CIC). My mom — while working after high school in Scott County,  TN (I think in Oneida but it may have been Huntsville) — got recruited to work as a secretary for the FBI. She never knew exactly why she was recruited but always assumed one of her former high school teachers had recommended her.
In Washington, at the time, they had boarding houses where young working men and women could rent rooms while sharing common dining facilities. That is where they met. My mom always commented about how she thought my dad was an old man when she met him. I guess for a 19 or 20-year-old woman, 23 or 24 could seem old. Nevertheless, my mom caught my dad's eye. To introduce himself, my dad decided that humor would be a good method and put some hot sauce in her soup. What he didn't know was that my mom was extremely sensitive to spicy food, and how bad of a choice that was! Despite that rocky start they ended up together.
My dad always had a good sense of humor and liked to joke. Witnessing that clever spark fade from his eyes has been one of the tragic things about Alzheimer's.
And the twist…
In the 1980s there was an event at our house, I think something to do with the Supreme Court campaign. He was telling people that he and Mom met when he worked for the CIC and she worked for the FBI. He joked that they met when they were spies in the Soviet Union. For Dad, this was all in good fun, but one of the attendees did not realize it was a joke. That poor man, who spoke Russian, came up to tell my Mom how excited he was that he would be able to speak Russian to them. My mom, who, unlike my dad, was very quiet and introverted, was absolutely mortified.
I was young when this happened and don't remember it personally. But, I have vivid memories of my parents telling me about it and how embarrassed my Mom was, still, years later… and how my Dad could hardly contain himself from laughing. He still thought it was hilarious.
To see my tribute page to my parents, Cruz & Jeannene Reynoso, click here.
Here is a piece about the exhibition in Berkeley, CA centering around Dad's drawings when he was on the courts.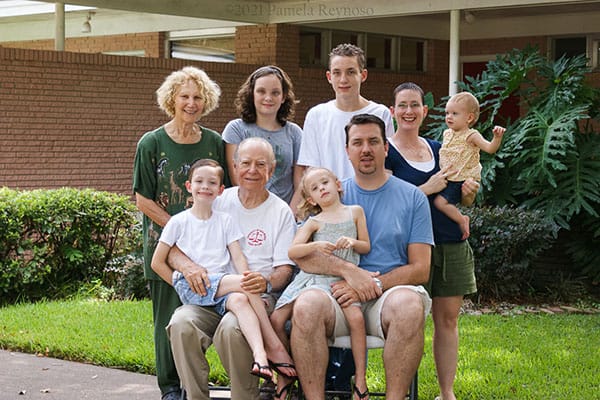 Dad visiting our Family in Louisiana with his second bride-to-be. He actually proposed to Elaine on that trip.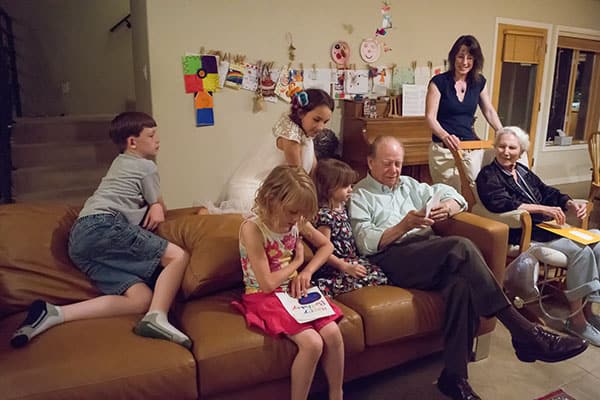 A birthday at my step-sister's house.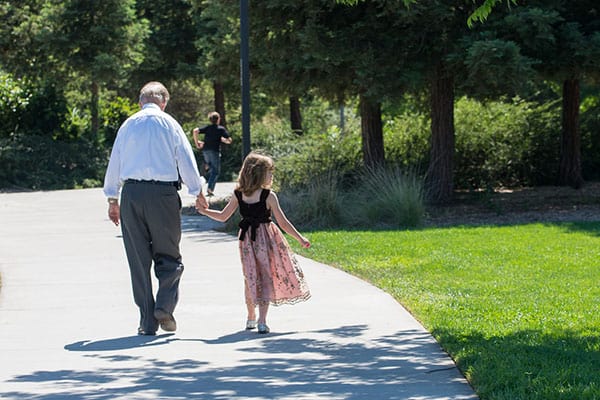 Dad walking with our younger daughter. He liked to walk and they liked to walk with him.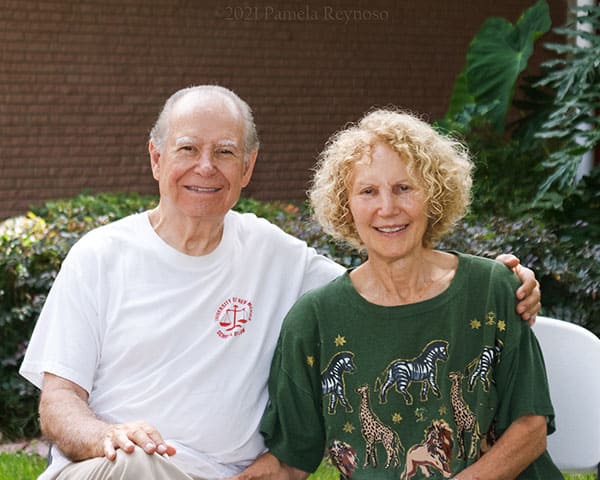 Dad and Elaine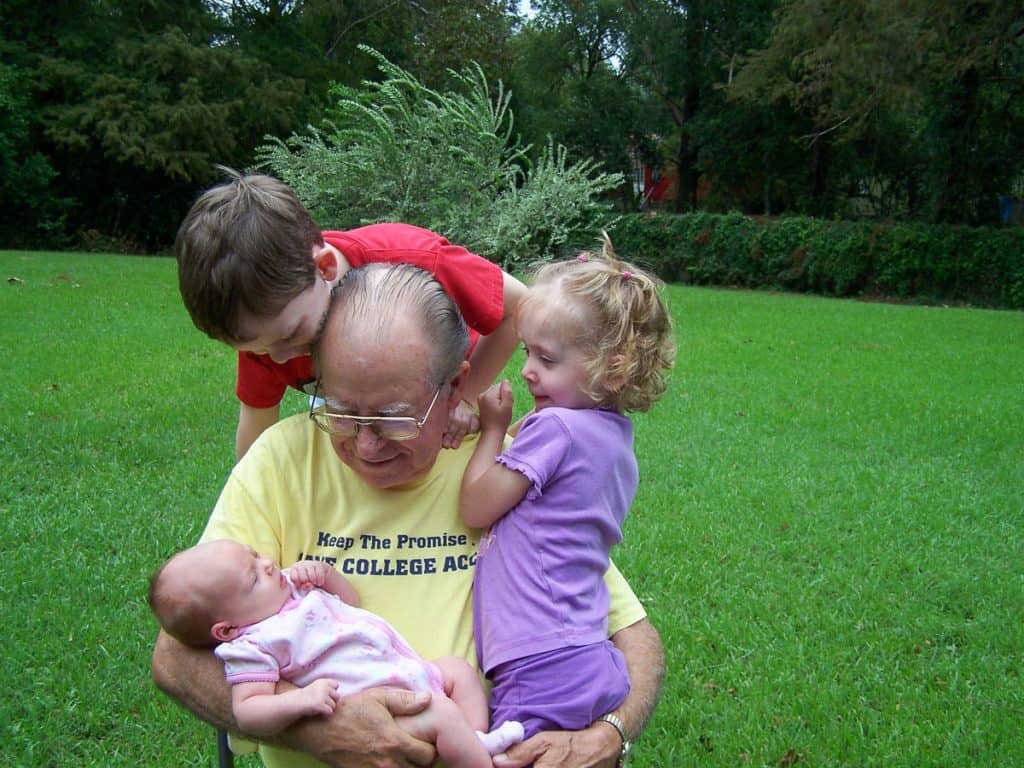 Our kids loved to climb all over Dad when they were young.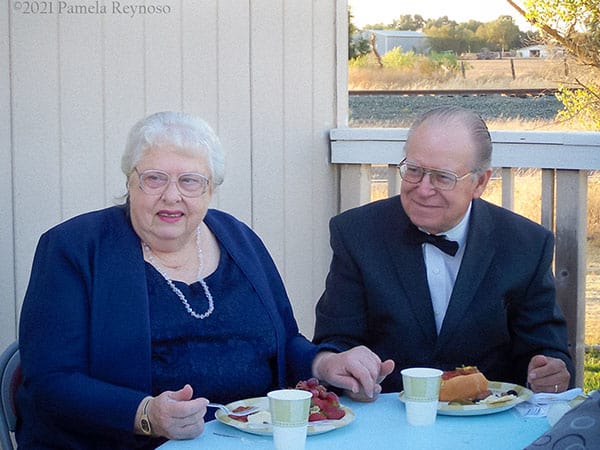 Dad and Mom at the party for their 50th anniversary.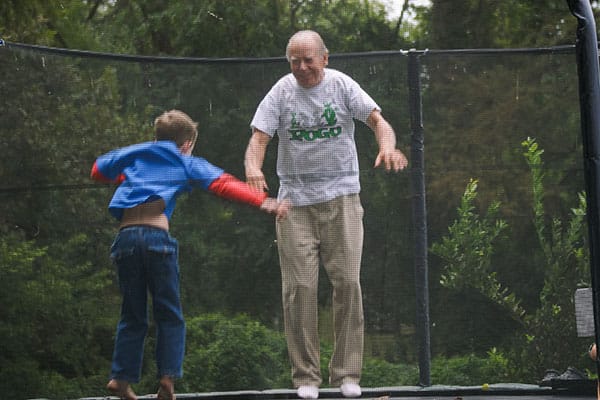 Dad jumping on the trampoline with our middle child.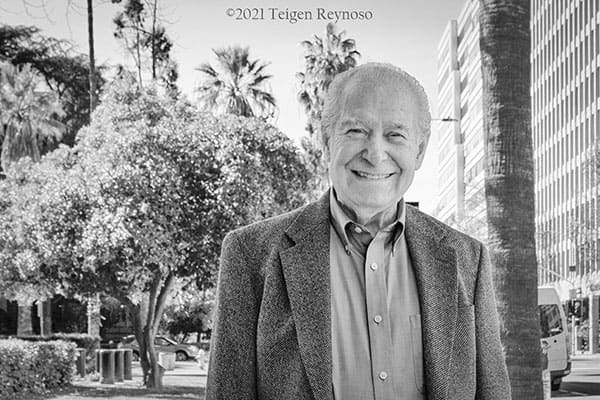 A picture of Dad by our youngest daughter.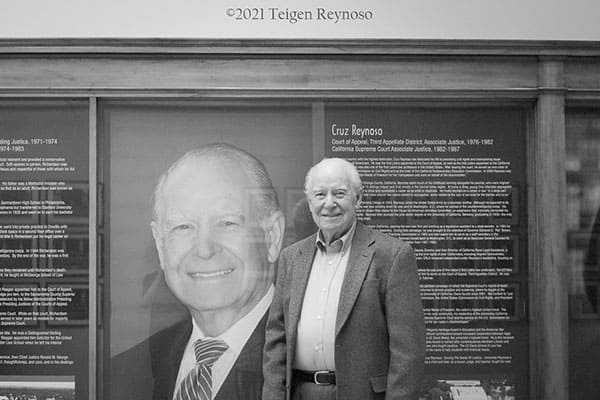 Another picture by our youngest.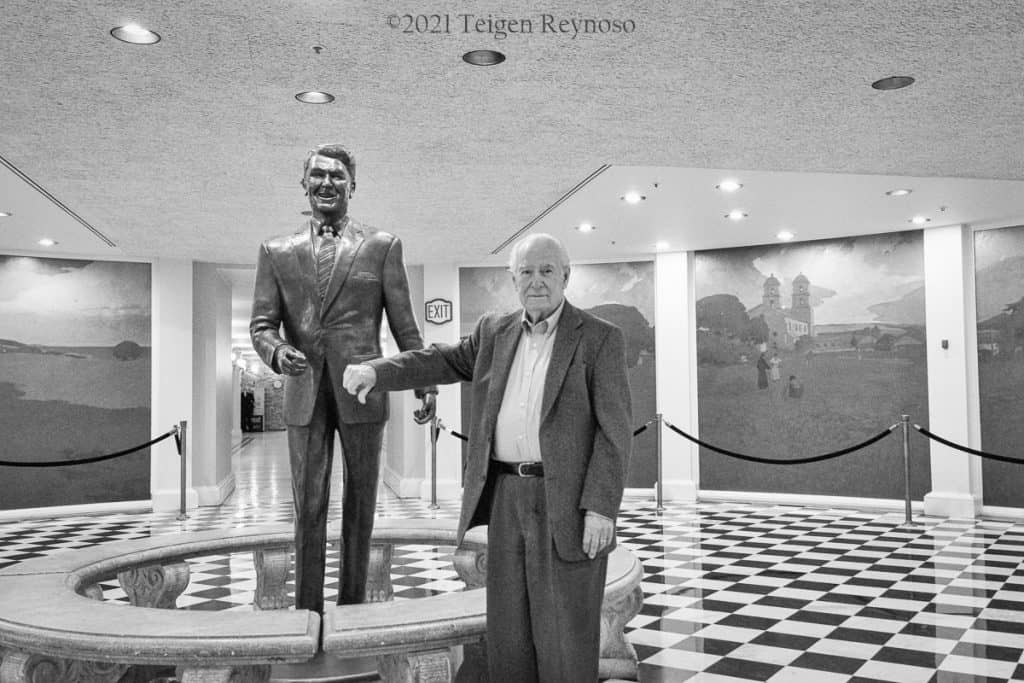 Dad was never a fan of Ronald Reagan, in fact, as the head of CRLA, they won 5 lawsuits against him.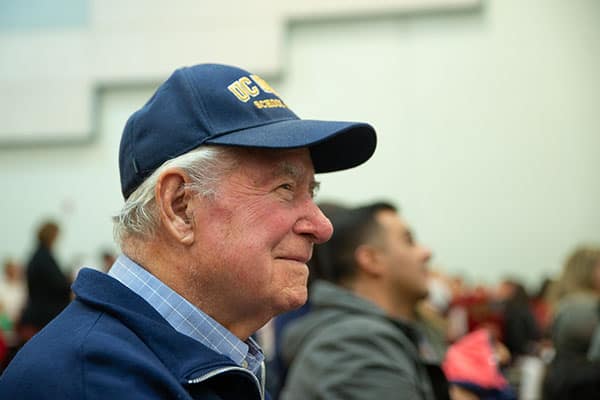 Dad smiling as he watches a grandchild at a choir performance at Arcohe Elementary School where I also went to school from kindergarten through 8th grade.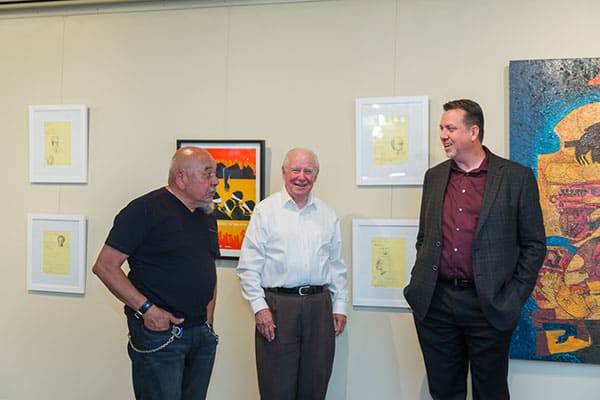 Dad, Andres Cisneros-Galindo, and Rondall at the View from the Bench art reception.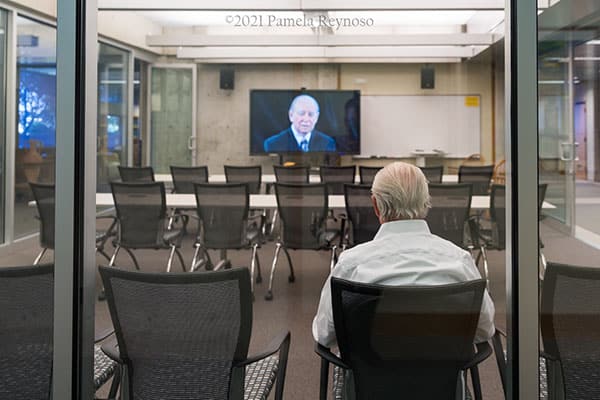 At the opening reception of the art show I curated "View from the Bench:Social Justice in Art, Law, and Religion of the Chicano Community" we showed a video about Dad. Here he is watching it.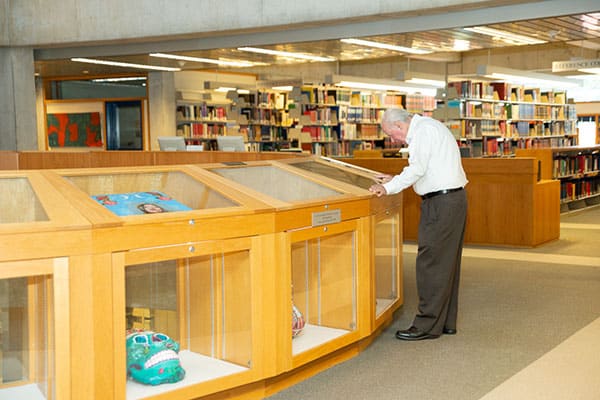 Dad looking at his drawings at the Graduate Theological Union.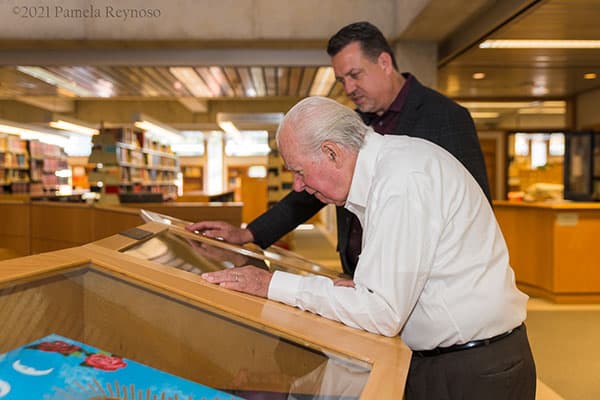 Dad looking at his own drawings. It turned out the closing reception was Dad's last public appearance.
Dad, Gustavo (cousin), granddaughter, and me on our front porch.
Previewing Dad's drawings before the exhibition.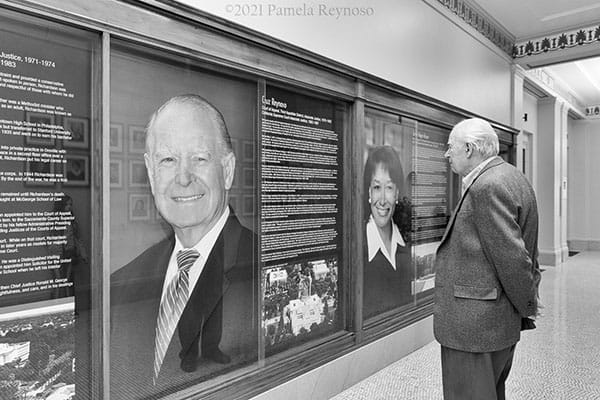 At the courthouse in Sacramento.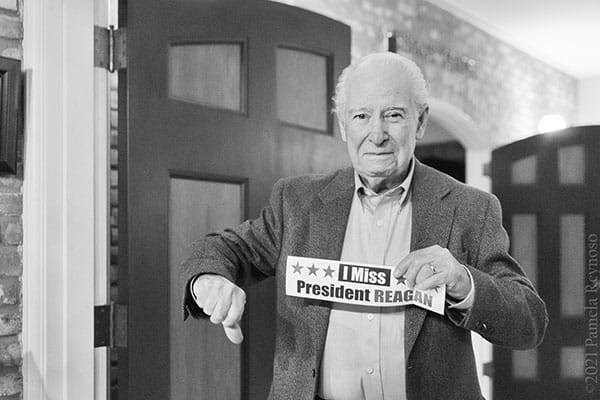 Did I mention Dad wasn't a fan of Reagan?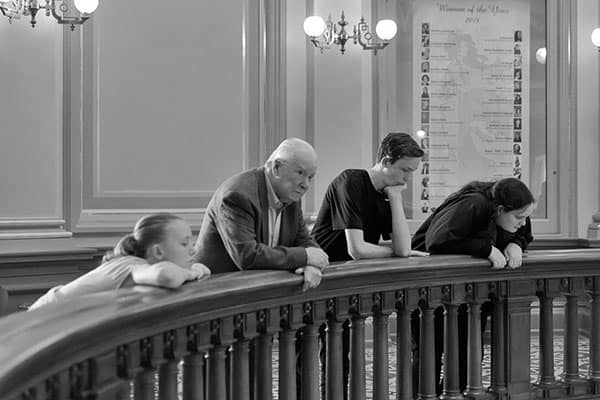 Dad and grandkids overlooking the capitol rotunda in Sacramento on a family outing.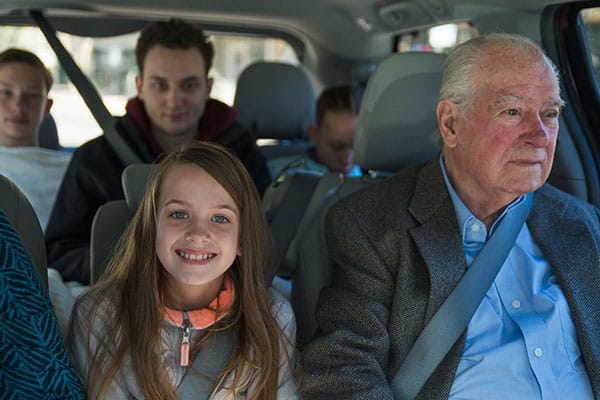 The family crowded in our van.
Dad, Elaine (his wife), and Pamela at Eden's graduation.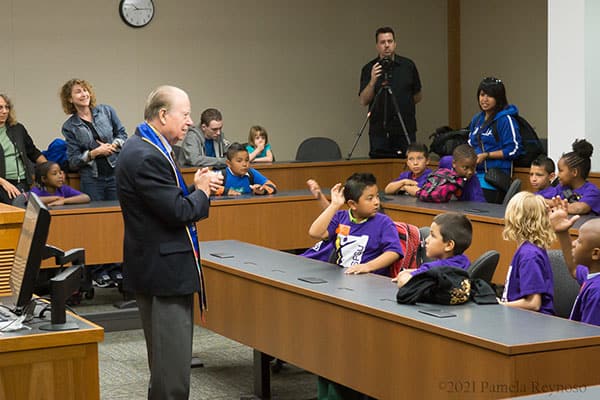 Dad spoke to our daughter's 2nd-grade class when they visited UC Davis.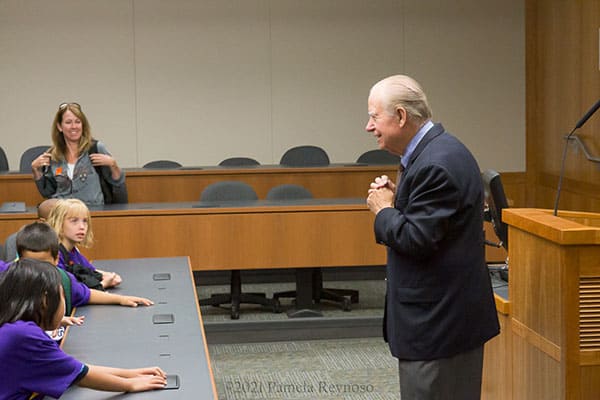 The kids were captivated.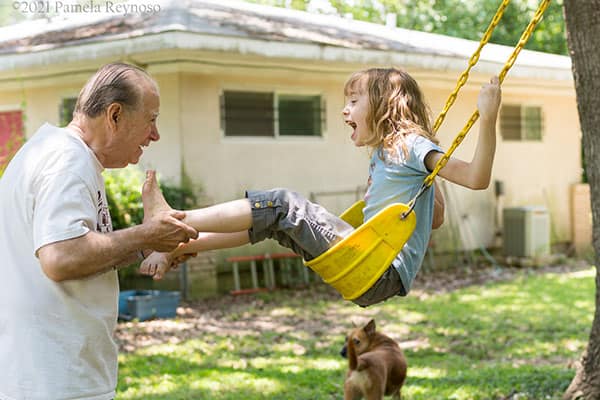 Dad playing with our daughter on the swing.
There was a time when Dad really enjoyed riding his bike to the work and around Davis.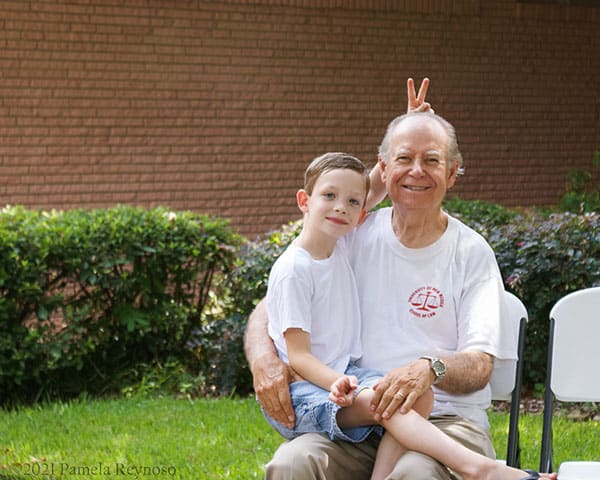 Dad and a grandson.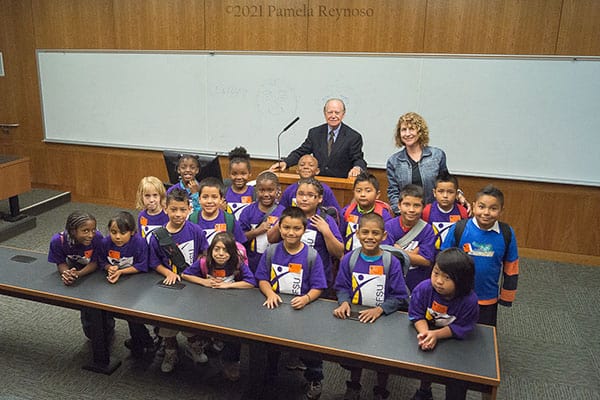 Our daughter's second-grade teacher was a big fan of Dad's and loved being able to take her class to UC Davis.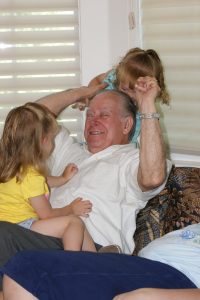 Dad playing with the girls.
Dad wearing a social justice t-shirt walking with our daughter.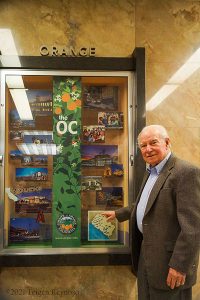 Dad showing where he grew up.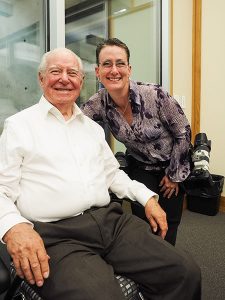 Dad and Pamela posing together at the reception for Dad's art show.
Dad casually modeling at UC Davis.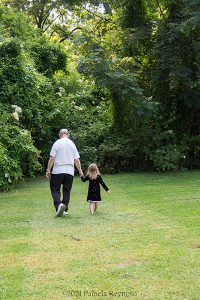 Dad was always walking holding the hand of a kid.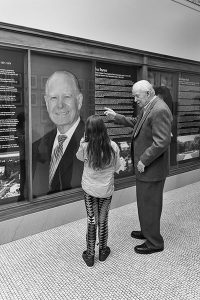 Dad showing his granddaughter a picture of himself at the courthouse.
About Post Author