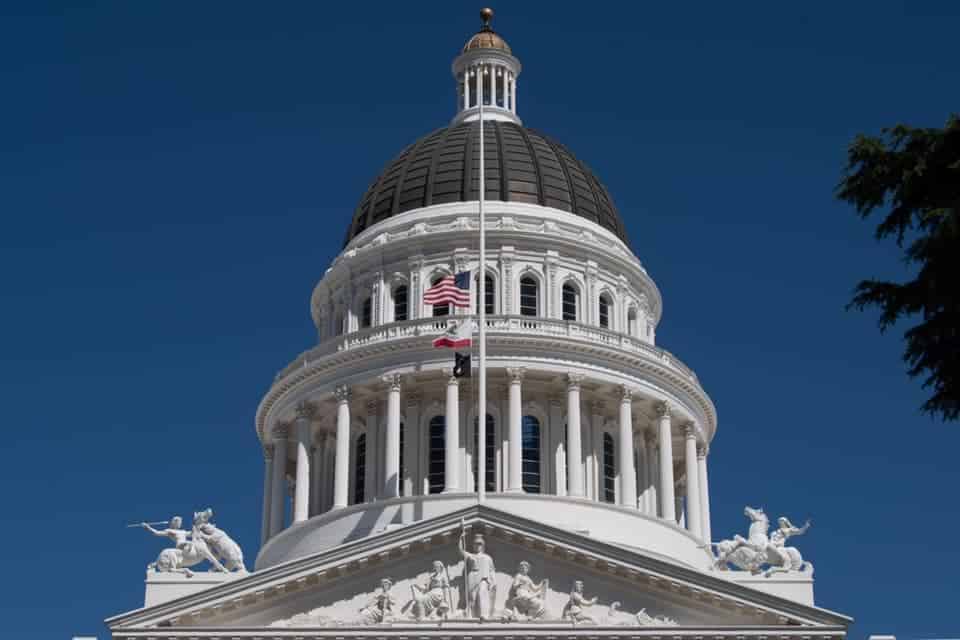 My dad passed away about six weeks ago.
My mother passed away almost 14 years ago.
Our family home was sold last year.
I find myself feeling unmoored in a way I have never felt before in my life. I have no living parents and the house that has been "home base" since I was three years old no longer belongs to the family. Because of my father's notoriety, there was a lot of attention paid to his passing including articles in major newspapers. The image above is of the California State Capitol flying the flag at half-mast in honor of my father.
In a very real way, my Dad left a public legacy by which he will be remembered. He wrote meaningful opinions when he was on the California Supreme Court and won important cases as the Executive Director of California Rural Legal Assistance. He was part of important investigations as Vice-Chair of the United States Commission on Civil Rights.
What was telling to me though, as I read and listened to many memorial statements about my dad, was that what most touched people wasn't his professional accomplishments but the way he touched their lives personally- his humility, his kindness, his humanity.
Since both of my parents have now passed, I've been thinking a lot about legacy. Part of that may also include that as I inch closer to fifty, thoughts of my own legacy begin to grow.
My mother lived a very different life than my father. While Dad was very public and connected with the broader political and legal communities, Mom was very private. She spent most of her time, at least during my life, in our small rural community. She was one of the pillars of our tiny country church. She didn't have "historic" accomplishments that will be studied in law schools for generations. She poured her life into her children, her local community, and her church. I don't know how many times my dad was off speaking to hundreds of people while my mom spent the evening chauffeuring my friends and me around or attending a Bible study.
My dad passed away on a Friday afternoon, so all weekend long there were articles about his passing. On Sunday, which happened to be Mother's Day, I attended the small country church in which I was raised. And, I do mean small. I think there were thirteen of us there. Two young women in attendance were asked to speak about their mothers. One, though, decided to also speak about two mother figures she had at the church. One of those was my mother who died 14 years ago when this young woman was a teenager.
Yes… I cried.
I was already emotional with Dad passing but it struck me how strong my Mom's legacy is despite being so private. This woman still reflected on the influence my mother had on her so many years later.
That is the legacy I most cherish about both of my parents. The legacy of speaking individually into people's lives. A legacy of empathy, of care, of love. As a professor, artist, and scholar, I will never be on the Civil Rights Commission or the California Supreme Court. My life isn't as public as my father's nor as private as my mother's. But, I can continue both of their legacies by pouring into the lives of my family, my community, my church, and my students.
About Post Author