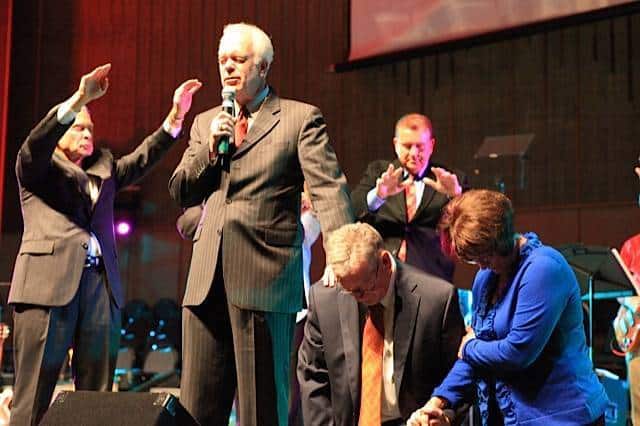 When I think that Louisiana College can no longer surprise me…they do. Yesterday, the Board of Trustees voted to retire Joe Aguillard. But, instead of repenting for the sins that occurred under his leadership, they chose to praise Aguillard for his vision, diligence, fortitude, and Christian commitment. Chairman of the Board, Tommy French, released this statement to the press:

In keeping with the mission of Louisiana College, for almost 10 years now, as President of Louisiana College, Dr. Joe Aguillard has led the College as it has provided liberal arts, professional, and graduate programs characterized by devotion to the preeminence of the Lord Jesus, allegiance to the authority of the Holy Scriptures, dedication to academic excellence for the glory of God, and commitment to change the world for Christ by the power of the Holy Spirit.

He has served this college with diligence, fortitude, and Christian commitment. His vision has allowed the college to grow beyond measure. He has led the college through many difficult challenges and as a result of his leadership:

the college has preserved through the theological position of biblical inerrancy as explicated in the integration of faith and learning into every course and area of the campus;

the college has become a level 5 graduate school as a result of the development and implementation of the Masters of Arts in teaching program (the first graduate program in the history of the college);

In 2005, during his first year as President, the college was removed from probation by SACS, and today the college stands as a reaffirmed accredited institution of higher learning.

Today, the Louisiana College Board of Trustees voted to bestow upon Dr. Aguillard the honor of continuing his contributions to Louisiana College in the role of President Emeritus beginning August 1, 2014. Dr. Argile Smith has been appointed by the Board of Trustees to serve as the Interim President to ensure that there is a smooth transition of leadership as we search for the next President of Louisiana College. Dr. Aguillard will be available to assist Dr. Smith as needed during this transition and additionally, will serve a vital role in the Graduate Teacher Education program as a tenured Professor.

On behalf of Louisiana College and the Board of Trustees, we want the Louisiana College students, alumni, faculty, staff, and community, to know our deep appreciation to Dr. Aguillard, his wife, Judy, and his daughters for the dedication they have shown to this College. God has blessed Louisiana College through the service of this President and we are grateful to God for that.

Please continue to pray for the College, our President Emeritus, the Interim President, and the Louisiana College Board of Trustees. May we, all, stay focused on continuing to fulfill the mission of Louisiana College in Christian unity and devotion.

Dr. Tommy French,
Louisiana College Board of Trustees
Chairman
This has not gone over well with many of LC's constituents. I don't think it is that those with an interest in LC are out for blood but they do want the College to demonstrate real contrition. Many do not feel they can trust LC if LC will not admit any wrong. I agree with that.
I also see, however, significant political machinations in what happened yesterday and a continuance of LC's policy of dishonesty.
First the dishonesty.
Initial reports yesterday were that Dr. Aguillard had presented the expanded confidentiality agreement to the board claiming that they had to expand their confidentiality agreement or they would be placed on probation. That was horrible. What is worse though is that those reports were in error. It was actually Tommy French. There has also been confirmation from SACS (LC's accrediting agency) to the Town Talk that they made no such statement and that it is not consistent with their policies. This means that the Chairman of the Board lied to the rest of the board in order to get a policy passed.
There are a couple of issues here. The first is that LC cannot demonstrate to the public that they are trying to change their way while they continue to be caught in lies at the highest level. Second, it SACS has any teeth this is incredibly dangerous for LC's accreditation. Standard 1.1 with SACS is integrity. LC is already being investigated under this standard because of the forged documents that happened under Aguillard's leadership. LC needed to be able to show SACS very clearly that this was a problem by removing Aguillard. But, at the same time French has now demonstrated both that integrity and governance are issues at LC.
The second issue of dishonesty is arguably less serious. We all know that Aguillard wasn't retired because he did such a great job. He was retired firstly because his leadership has caused serious problems and most importantly because he ticked of David Hankins. It is common practice in the world to say wonderful things about a person you are firing to try to save face. But, LC should not be adopting the dishonest tactics of the world and they need to work toward building trust. They need to be willing to call a spade a spade.
Political Machinations, What I think really happened
As I have indicated, yesterday took me by surprise. I was expecting Aguillard to either be affirmed or fired. I didn't expect both to happen. So, I spent a good deal of yesterday trying to wrap my mind about what really happened. Below is my best guess. It certainly contains conjecture but I do not think without grounds.
Initially, I could not imagine the board expanding the confidentiality agreement and getting rid of Aguillard. Then it occurred to me that Hankins could be working multiple angles. In retrospect, I believe that is exactly what happened. What happened yesterday was a demonstration of David Hankins' political prowess and the stretch of his power.
Hankins has four issues that he wanted dealt with heading into yesterday's trustee meeting.
Joe Aguillard had disparaged Hankins and his son Eric on a recording released to the Town Talk. Further, Aguillard had initially lied to Hankins about it. Despite Hankins' long standing support for Aguillard, in the face of serious ethical issues, Hankins could not tolerate this sort of disrespect and disloyalty.
Dr. Aguillard is demonstrably vindictive. Former administrators at LC have expressed concern that if Aguillard were ever removed from office he would then work behind the scenes against his replacement. Hankins and the board have participated in this vindictive behavior before by calling the current institutions of former professors and there have been multiple concerns (which to date have not been proven) about Aguillard interfering which the employment prospects departing faculty with whom Aguillard was not pleased. Hankins needed a way to control this sort of behavior.
Hankins' undue influence in LBC agencies has been under attack by several trustees. Ten of them broke with unwritten LBC rules and wrote a public letter addressing the issues at LC which in some very serious ways go back to Hankins' undue influence which can also be a serious accreditation issue. Hankins needed to find a way to discredit and/or quiet the dissenting voices on the board all of whom have access to recordings and documentation that prove Hankins' tremendous influence and his role in retaining Aguillard last year despite serious ethical concerns.
David Hankins is the force behind the anti-Calvinist campaigned at LC. His son Eric was the author of the 'Traditionalist Statement' and there have been concerns for years about Hankins wanting to remove Calvinists from LC. Hankins needed to find a way to keep the pressure on the Calvinist issue and not give any ground in his personal theological jihad against the doctrine.
The timing of the press release and the fact that only the emeritus portion of Aguillard's package, not the faculty position or salary agreement, was voted on by the board indicates that this deal had been struck before the board meeting.
So how did what happened yesterday deal with the issues at hand?
Issue #1
This is the most obvious one. Aguillard was removed from the presidency. All reports indicate that this was not negotiable for Hankins. And, while how it was done leaves a bad taste in the mouths of many this was also a partial win for the side of integrity. Aguillard was not removed for the right reasons and he was not removed in a way that indicates a change in direction for Louisiana College; but, he had been emboldened by nine years of no accountability. His abuses were becoming more frequent and worse and students and faculty were at risk. A new president, even one in the mold of Aguillard, will not be as bold which is at least partial protection for the ethical faculty, staff, and students. This hopefully will give those in danger time to find new jobs, retire, or transfer.
Issue #2
This was a major concern. How do you keep a vindictive litigious person from causing problems when they are released from their position? There was concern that if they fired Aguillard straight away he would file suit against the college. There was also concern that if they just let his contract expire without removing him from office that they would risk him doing things that damaged the school. The solution seems to be to pay him off. If he has significant financial interest in not screwing things up then they hope that he will play along. So, next year, according to the Town Talk, he will be on sabbatical (something that is normally associated with a research project but in this case seems to be a paid vacation) while receiving his full salary of $202,007. When he returns we will make 50% of that salary, $101,003.50 as a full tenured professor. The following year and through his retirement he will make at least 30%, $60,602.10. I say, "at least" because the report does not indicate how possible raises with be handled. This arrangement, especially the one year paid vacation, provides a significant cost to Aguillard if he does not play well with others. From one perspective this is smart. But,that perspective does not consider LC's troubled relationship with the truth and the good will that the institution needs to very intentionally try to rebuild.
There is also the question of, "Will Aguillard play nice?" Some interpret the sabbatical as a way to get Aguillard off campus while the college tries to move forward. However, it is not clear if Aguillard will be away from campus on sabbatical or on campus. The press release clearly states that Dr. Aguillard will be available to assist Dr. Smith during the transition. Is this polite talk obfuscating the truth that they are running Aguillard out-of-town or is it a sincere statement? It is hard to tell. If though, Dr. Aguillard does remain on campus it is difficult to imagine that someone with such a dictatorial style and clear control issues would be able to quietly work in his corner while new leadership sets the direction for the institution.
Further, having such a controversial figure on campus has to complicate the search for a new president. The search will already be very difficult as most qualified, thoughtful, integrous candidates will be very leery of the dishonest culture within LC and the LBC and of the extremely difficult road the institution has to regaining respectability, financial health, spiritual conviction, and academic integrity. Qualified candidates waked away from the position last time it was open when there were far less serious issues and a shorter history of problems.
Issue #3
The influence of Hankins is a real issue in Louisiana. Potentially, it is also an accreditation issue. The expanded authority of the Executive Director is in direct contradiction of the original intent of LBC founding documents. But, while I have heard talk of Hankins' corruption since I first moved to Louisiana it has become even more clear in the last year as he has over exerted his influence at LC. Recently, there has been talk about the tensions within the Baptist Building (LBC headquarters in Alexandria, LA) and a growing movement against Hankins. Some churches have begone redirection their dollars away from the LBC which may be the only real voice individual churches have. But, Hankins' greatest and most critical detractors have been from members of the LC Board of Trustees. Jay Adkins specifically has been very public in his criticism and a group of 10 board members released a statement that pointed out Hankins' undue influence. Individuals willing to speak their mind and stand for truth is a real challenge for dictatorial regimes. The needed to be quieted. Tommy French had already threatened Jay Adkins earlier this year but Jay had not done anything wrong so it was difficult to go after him.
As a result, the Board needed to have new policies. Tommy French presented a new policy that forbids Trustees from discussing college business even with their wives. He further stated that this was due to a letter that the college had received from SACS claiming that they needed to do this or be placed on probation. This however was a blatant fabrication…umm…lie. SACS made clear publicly that they have no such requirement and that any requirement that they have which could be misinterpreted in this way is actually meant to increase transparency not decrease it. But, politically it worked. The board passed the resolution in a split vote. Further, they then voted that they will prosecute any board member who does not comply. Jay Adkins and Larry Hubbard immediate resigned from the board. I have to admit I would have also. In fact, I tend to think that the only real voice that dissenting board members have left is to have a mass resignation. Their voices have been marginalized and their presence at this point only lend credibility to a corrupt institution.
Now, board members are under threat of legal action if they speak the truth that Hankins and French do not want spoken. Adkins and Hubbard are still free to speak but they do not have continuing access to information. In effect, Hankins cut the legs out from under his critics. Of course, this also fits French's purposes as he has shown the willingness to lie to the board and publicly and now he can prosecute anyone on the board who points that out.
Issue #4
From the beginning the anti-Calvinist issues at LC have been the child of David Hankins. There were concerns about that as far back as when I came to LC in 2007. He has put significant energy into crying about this wolf and he was not about to let it go. Argile Smith has been an ally in this quest. In fact, testimony by Smith and another faculty member were used against Chuck Quarles to spread the idea of Calvinist conspiracy at LC. Unfortunately, for Smith tapes were released to the Town Talk which demonstrated that Smith was lying. This is particularly interesting as the departure of Quarles opened up his position to be filled by Smith. It at least looks like Smith was willing to lie for personal gain while pretending he was speaking truth about an "important" theological issue. While this would be shocking at a healthy Christian institution LC has been so full of lies in recent years that it has hardly been noticed and clearly didn't keep Smith from being named Interim President. Additionally, Smith was recorded last year threatening a student. A student recorded an interaction with Smith where he asked if a speaker was still going to speak in Chapel. After answering the quetion Smith says to the student, "If you put this on your blog I'm coming after you." The student then asked what that meant to which Smith responded "You know what it means." He further went on, "If you put anything about my friend Russ Moore on your blog, you and I will have a discussion."
While there has been some significant criticism of how this recording was obtained almost all that criticism has come from those who do have not experienced the environment at Louisiana College. (ETA: Please see the added ETA at the end of this blog as thisneeds some further clarification) But, more importantly that criticism misses the point that Dr. Smith behaved in an unprofessional way that is entirely inappropriate and that he did so with almost no provocation.
How does someone who has been proven to lie and gain personally from it and who has threatened students gain the position of Interim President. I believe the answer is simple. He has wanted it for a while, has proven that he can play well with the relevant powers, and is ardently anti-Calvinist. There have been rumors for a while that Smith was angling for the Presidency of LC. I have no confirmation on this and really it is beside the point. What concerns me is that LC is at a juncture where they are needing to build good will But, they pull in another good ol' boy who has a proven history of dishonesty and threatening students. This is not how an institution regains trust. But, it is how Hankins and French can ensure that divisiveness over Calvinism continues.
Conclusions
Most people who are following the situation at LC consider the ethical issues to be the main concerns. For many the financial issues are a close second. But, the leadership at LC and in the LBC seem blind to both these concerns. Rather than, as religious leaders, fighting for truth they continue to be consumed with political maneuvering, hiding the truth, and manipulating for power. This does not bode well for the future of the institution. For LC to be healthy, for the LBC to be healthy, they need to repent. They cannot continue to lie and obfuscate the truth and think that they are in good standing before God or man. The world is watching. Potential students and their parents are watching. Alumni are watching…you know those folks who used to give money to you.
When thinking about yesterdays events we do need to keep in mind that it was a partial win. Joe Aguillard's leadership of Louisiana College is coming to an end. That is important! But, we also have to remember that there is nothing in how LC handled this situation that indicates a willingness or a desire to become a healthy God honoring institution. As always they continue to draw near to God with the mouths while their actions demonstrate that their hearts are far from Him. There is a choice now. Individuals can continue fighting for Louisiana College but they need to realize that to do so is now a larger task which includes fighting against the unhealthy spiritual environment within the LBC and it may require redirecting church funds away from the LBC and the Cooperative Program. It requires demanding that both the pastors and laity in the LBC stand for truth and demand truth from their leaders. It will not be easy. People will not be happy. But, the fight for truth is worth it. The other option is to simply turn LC and frankly the LBC over to Satan. Both institutions will continue to call Lord, Lord. But, they will not honor God. That sounds harsh. I am not saying that there will not be legitimate well-meaning Christians in those institutions. Of course there will be. What I am saying is that the leadership has shown a heart of deception and lies not the heart of God. You have to either accept the heart of these institutions as they have demonstrated themselves to be or you have to continue fighting knowing that it will be difficult.
The choice belongs to those individuals sitting in the pews and preaching from the pulpits across the 1600 LBC churches in Louisiana. I believe most of them are good folk who would not approve of the type of behavior LC and LBC leaders have exhibited. But, out of the conservative resurgence has emerged a dangerous doctrine of authority which discourages the laity or even they less elevated clergy from questioning their leadership. I believe this model is not only contrary to Baptist tradition but far more importantly contrary to scripture. We stand alone before God. We can not hide behind our leadership. We cannot claim we did not know. If we support institutions that are working cross purpose with God we are at fault. It isn't the fault of Hankins or Aguillard or Smith or French or the Board of Trustees. Is it the fault of the average person in the pew and the average pastor. These others only have power because you give it to them. That is at the heart of Baptist polity.
ETA (4/17/14): When I say significant criticism, I am not meaning to imply that I believe the criticism is well founded. The recording was initially made by the student to defend himself if needed. He was not trying to entrap Dr. Smith as has been accused by a small but vocal group. I believe that the student was justified in seeking to protect himself and had good reason to release the recording when he chose to do so. His reason's for releasing the recording  can be read here.
About Post Author