Over the last few decades, the United States has been obsessed with size. Until gas prices approached $5 a gallon, massive SUVs ruled the roads. Even now as gas prices have dropped, I've noticed a rise in the number of New SUVs on the road. In the 1950's, the average new home construction was slightly over 1200 square feet. Today, the average is twice that all while the average family size is shrinking.
Universities are no different, mega-campuses have been increasing to the point where there are now nine public universities with over 50,000 students. Central Florida University now boasts over 60,000 students. This doesn't count private institutions like Liberty University that grow huge enrollments through online programs. Central Florida wasn't even established until 1963. The next largest university, The Ohio State University, had 20,512 students in 1950 and had an enrollment of 58,663 last year.
Despite this move toward the large, there has been a counter-movement toward the tiny. Tiny Houses have been getting a lot of press. My kids enjoy watching Tiny House Big Living. And, I admit to fantasizing about the decreased costs…though 5 kids make that an impossible choice.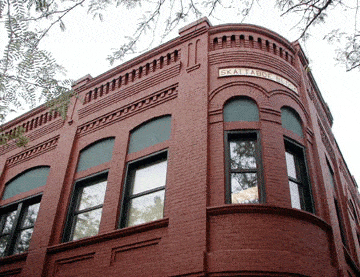 There is, however, an equivalent "Tiny" trend in higher education. Faith on View from the beginning was intentional about making the rankings applicable to well know schools like Wheaton College, large schools like Baylor or Liberty Universities, and to small schools, most people have never heard about.
Tiny Colleges, for our purposes, are schools with 250 undergraduate students or fewer. These sort of schools provide a very different educational experience than you will find at large universities. Honestly, their tiny size makes them much more like small communities or families than most schools. If a student wants a tight community with a very personal education some of these schools are worth taking a look at.
Tiny Colleges (250 or fewer students)
Rank

…

Score

…

College
Location
Students
1.
644
Gutenberg College
Eugene, OR
22
2.
603
The Thomas More College of Liberal Arts

…

Merrimack, NH
87
3.
531
New Saint Andrews College
Moscow, ID
148
4.
325
Randall University
More, OK
210
5.
294
John Paul The Great Catholic University
San Diego, CA
206
6.
255
Morthland College
West Frankfort, IL

…

100
7.
227
Providence Christian College
Pasadena, CA
147
8.
210
Northeast Catholic College
Warner, NH
36
9.
207
Holy Spirit College
Atlanta, GA
19
10.
180
Wyoming Catholic College
Lander, WY
112
11.
163
Holy Apostle College & Seminary
Cromwell, CT
112
12.
152
University of Fort Lauderdale
Lauderhil, FL
31
13.
144
Baptist University of the Americas
San Antonio, TX
195
Please explore Faith on View's full college rankings HERE.
About Post Author