A blogger has leveled the accusation that pastor and author John MacArthur is a plagiarist.
Julie Roys tossed down the plagiarism accusation on her blog. Roys' case is built in part on a tweet from a former Masters' Seminary Vice President, Dennis Swanson. Roys writes:
The accusation came in a thread poking fun at MacArthur for calling popular Bible teacher Beth Moore a narcissist while naming a study Bible after himself.

MacArthur also "steals chapters from people," Dennis Swanson tweeted. Swanson is former VP for library, accreditation, and operations at TMUS.

Swanson shared images comparing identical chapters from two editions of a book by MacArthur and TMUS faculty. One edition attributed the chapter, "Frequently Asked Questions About Biblical Counseling," to Swanson as editor. The other attributed it to MacArthur and Wayne A Mack as editors.
Swanson's post can be seen screen capped below: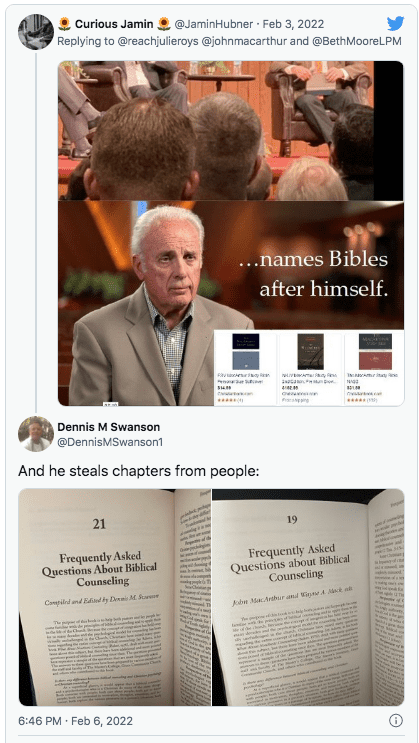 The MacArthur camp does not seem to be in a rush to respond. In an earlier article, the publishers of Protestia.com cast aspersions on Roys character.
Julie Roys, the official Matriarch of the She-Woman Man-Haters Club of Woke Evangelicalism™ took to Twitter and saw fit to spike the football on MacArthur's lust for filthy lucre.

Roys has been trying desperately to place MacArthur in the money-hungry, prosperity-pimping gazillionaire camp for quite a while, mostly because she has no biblical discernment and can't distinguish right from almost right. How else does one explain the pathological obsession with getting it wrong all the time when it comes to the Governor of Grace Community Church?
In her own article, Roys has given some evidence that on the surface seems to convict MacArthur, but also gives an alternate interpretation of the evidence which would completely remove the entire reason for the article in the first place — namely that the original works were produced for hire and the owner may do what they want with it, even changing the name of the editor. This is a legal argument, however, and appears to fly in the face of statements MacArthur has made comments in the past concerning the topic of the accusation:
… has publicly criticized pastors who plagiarize, especially in their sermons. At a conference last year at TMUS, where MacArthur serves as chancellor, he rebuked plagiarizing pastors as "lazy and incompetent" and "unsanctified."

"I think you become a showman at that point," MacArthur said. "You're an actor. You're playing a part. You're playing a role."
Read the full articles;
About Post Author