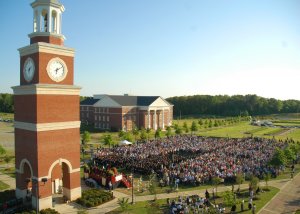 Faculty Resources is the third of the four categories that are calculated as a part of the overall Faith on View Christian College Rankings. Prestige and Student Satisfaction & Success were previously published.Below is the methodological description of this category. For other aspects of the full study please consult the methodology page.
Faculty Resources

A base assumption of these rankings is that the faculty are  the core of an institution. Faculty who are well cared for and not over worked are more able to properly instruct and mentor students. This ranking category takes into account faculty salaries, course size, percent of faculty who are full-time, and student faculty ratios. Future rankings plan on adding to this area faculty teaching loads and percentage of faculty with terminal degrees.
There are six institutions that have ranked in the top 20 of all three categories published so far: 
Pepperdine University, Wheaton College, Calvin College, Thomas Aquinas College, Westmont College, and Providence College.
Thomas Aquinas has finished first in two categories.
Top 20 Christian Colleges in Faculty Resources
.
Rank     
Score     
College                                                  
Location                        
Undergrad Enrollment (Total)
1.
100
Thomas Aquinas College
Santa Paula, CA
358
2.
90
The Thomas More College of Liberal Arts
Merrimack, NH
80
3.
80
Union University
Jackson, TN
2875 (4007)
4.
77
New Saint Andrew's College
Moscow, ID
165 (190)
5.
74
Gutenberg College
Eugene, OR
25
6.
72
Pepperdine University
Malibu, CA
3474 (7539)
7.
70
Bryan College
Dayton, TN
1345 (1466)
8.
69
Berea College
Berea, KY
1661
9.
68
Providence College
Providence, RI
4174 (4769)
10.
66
Georgetown College
Georgetown, KY
1273 (1818)
10.
66
Lipscomb University
Nashville, TN
2675 (4010)
10.
66
Samford University
Birmingham, AL
2950 (4758)
13.
65
Baylor University
Waco, TX
12,575 (15,029)
13.
65
Northwest Nazarene University
Nampa, ID
1530 (2260)
15.
64
Mercer University
Macon, GA
4404 (8329)
16.
63
Erskine College
Due West, SC
560 (773)
17.
62
The Catholic University of America
Washington, DC
3633 (6894)
17.
62
Hardin-Simmons University
Abilene, TX
1910 (2358)
17.
62
Louisiana College
Pineville, LA
1149 (1563)
20.
61
Calvin College
Grand Rapids, MI
3873 (3976)
20.
61
Westmont College
Santa Barbara, CA
1337 (1341)
20.
61
Wheaton College
Wheaton, IL
2433 (3069)
About Post Author