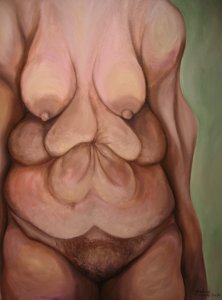 I received notification this week that Dr. Aguillard, President of Louisiana College, saw fit to attack both Dr. Scott Culpepper and me for continuing to write, on this blog, about the ethical and academic issues at Louisiana College. It seems that Dr. Aguillard addressed the college faculty and staff saying how it was sad we were not able to move on and then showed a life size reproduction the controversial painting by Jordan Wade (reproduced on this blog with permission of the artist). Reports indicated that Dr. Aguillard said something to the effect of "When you think of Reynoso and Culpepper think of this painting."
While I have written much less on issues at LC over the last few months this sort of direct attack from Dr. Aguillard requires a response. It saddens me that Dr. Aguillard continues to drag Jordan through the mud in order to attack me. The reality is that Dr. Aguillard has nothing with which to go after me other than this painting by my student so he continues to harm the student to get at me. Further, he has absolutely nothing with which to go after Dr. Culpepper so he tries to associate him with my perceived 'evils'. This sort of ad hominem tactic is unbecoming of any Christian much less the President of a Christian college. The fact remains that the ethical and academic deficiencies which Dr. Culpepper and I have pointed out on this blog and which others have addressed both on blogs and in traditional media are true. Change needs to come to LC.
Below is the letter which I sent to the Faculty and Staff of Louisiana College.
Dear Louisiana College faculty and staff,

It has come to my attention that in Monday's faculty & staff meeting Dr. Aguillard disparaged Dr. Culppeper and me. He, apparently, commented about how we are unable to move on from Louisiana College and keep writing about LC. He then tied us both to a painting that he considers pornographic.

First, let me say that I would love to move on. However, my love for Christ outweighs my desire to distance myself from LC. While the name of our Lord continues to be taken in vain by LC's administration I am called to speak. To quote Jay Adkins, a member of the Louisiana College Board of Trustees, who wrote on the issues with LC's administration, "I remain steadfast in my commitment to present truth, call for transparency and challenge those who abuse power. I will not be dissuaded."

Below are a few points that will be of interest to any who love Truth.

1)      While the President has used the painting he showed in the faculty meeting to discredit me since 2011, it should be noted that the painting was executed by a student in 2010. After the painting was displayed in the Juried Student Show in March 2010, I was still issued a contract by Dr. Aguillard. While there was a clause in the contract stating that such work could not be displayed there was nothing saying such work could not be produced nor that it was inherently against the mission of Louisiana College. If the painting were truly pornographic I should not have received a contract for the following year. Further, when I was hired I told Dr. Aguillard in my interview that I wanted to bring nude figure studies to LC with protections similar to what are found at Gordon College. It that were unacceptable I should have been told during my interview.

2)      If the image is truly pornographic, as Aguillard asserted in 2011, is it then appropriate for Dr. Aguillard to reproduce the image to show it to faculty and staff and to distribute it by e-mail as he allowed in 2011?

3)      It should also me noted that Jordan Wade, the former LC student who made the painting, owns the copyright of her painting and has not approved of Dr. Aguillard using the image. The photo he uses was acquired without permission when he illegally confiscated the painting in 2011. All reproductions he makes or distributes of the painting are in violation of the law.

4)      Scott Culpepper had nothing to do with the production or academic approval of the painting and to link him with the painting is purely slanderous.

5)      While Dr. Aguillard has declared the inappropriateness of such a work it should be known that such work has an almost universal acceptance among evangelical theologians. Few who are educated oppose such work. There are those within evangelicalism that react against such work but they do so out of ignorance not sound theological reasoning. A discussion about such issues may be found  in my  paper "That Ain't Art…That's Nekkid: Edward Knippers and the Aesthetic of Nudity in Evangelical Christianity." https://www.academia.edu/4051817/Thats_not_Art_Thats_Nekkid_Edward_Knippers_and_the_Aesthetic_of_Nudity_in_Evangelical_Christianity

In Christ,

Rondall Reynoso
About Post Author