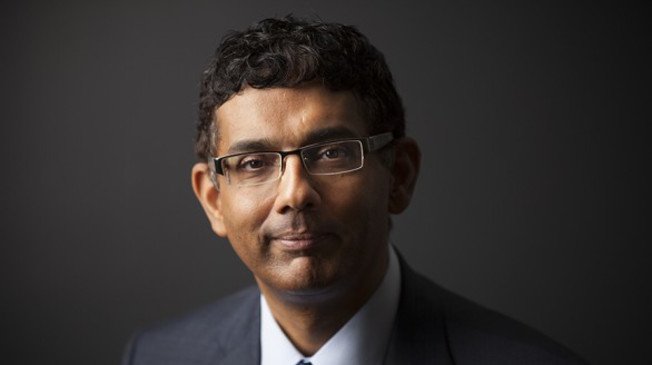 Most people know Dinesh D'Souza as a conservative author. But, to be frank I don't read many of the type of books he writes. I know him as the former president of the evangelical The King's College in New York City. For those of you who do not know, D'Souza resigned from his position at The King's College in October 2012 after World Magazine reported that he checked into a hotel at a conference with a woman who was introduced as his fiancée despite the fact that he was still married, though estranged. He has followed that up now by being indicted for campaign fraud. More details are available here, but basically he gave too much money to a campaign but gave it under different names so it wouldn't get caught and knowingly caused others to lie.
D'Souza is interesting to me because I had been keeping an eye on The King's College since before he became president. I think they are trying to do something interesting and I love NYC. But, when D'Souza became president the college's rhetoric took a dangerous turn to the right politically. I have no problem with someone being conservative. But, in one college communication D'Souza equated small government as basically a gospel principle. That goes too far.
There is a part of me that can't help but think there is something similar between D'Souza and the embattled Joe Aguillard from Louisiana College whose recent recorded words are causing a stir. There is something about people like this in positions of power. It is as if they feel they can get away with anything. The King's College did finally hold D'Souza accountable after his behavior was reported in World Magazine. But, it turns out with this new news that his ethical problems run much deeper. Aguillard so far has gotten away with his unethical behavior.
But, men like D'Souza and Aguillard do tremendous damage to the cause of Christ. They show the worst of humanity while we are holding them up as examples. We all make mistakes, but neither seems to take responsibility for their actions. That happens. What bothers me is when we don't hold them accountable. These are the hypocrites of which Christ spoke so despairingly. It is even worse when they are in a position of leadership for young Christians seeking to gain an education and to learn how to follow Christ. Anecdotally, there seems to be a connection between religious leaders who conflate faith and politics. I wonder if this happens because those who so fully mix faith and political dogma don't really understand the faith they are using polemically? I don't know.
All I know for sure is that this has not been a good week for very conservative current or former evangelical college presidents.
Related articles
About Post Author