Joe Aguillard, President of Louisiana College, has become infamous for his insistence on claiming that any challenge that comes against him is an influence of Satan. In my time at LC, I had heard plenty of slight insinuations of this but the most blatant was when, at a faculty meeting,  he called the Town Talk a "tool of Satan" after they had reported factually about some issues on campus. I've been told that he made similar claims about me after my letter was released in 2011. Recently, I've been told by reliable sources that he has made such claims about Divinity School Dean Chuck Quarles and Board of Trustee members, including Tony Perkins.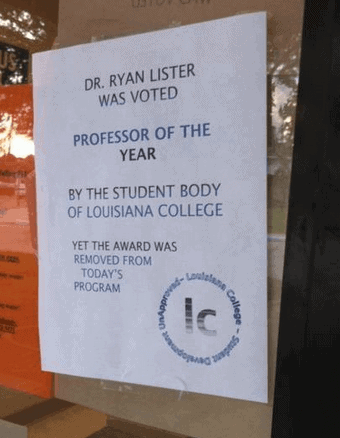 In my interactions with Aguillard in the Spring of 2011 I found it very difficult to gauge what action he was going to take. I found that he often made decisions which were not in his own self interest but satisfied what seemed to be a deep seated vindictiveness. Despite being arguably the most polarizing figure in Louisiana College history, he seems to have a strong desire to please and be liked which he seems unable to work  out in an honest manner and often devolves into Machiavellian maneuvers designed to manage his appearance at the cost of others.  He seems to be at it again.
There is no doubt that between the release of the letter from the Caskey Divinity School Donors and the publication of the internal investigation by the Town Talk it has been a rough week for Aguillard. But, as in the past he seems to only make things worse for himself. Former Caskey Divinity School Student, Joshua Breland, reports that Aguillard has cancelled this year's Professor of the Year Award. Why? It seems due to the fact that it was won by Ryan Lister a popular Religion professor who did not have his contract renewed. No reason was ever publicly given for the non-renewal of his contract; but, Dr. Aguillard posted a position paper against Calvinism at about the same time. And, thanks to the time line provided by the independent investigation, we also now know that this is during the time that Aguillard was being investigated due to whistle-blower accusations against him from Dr. Quarles. Quarles was protected by the whistle-blower rules but faculty as Lister were not. It does not seem unreasonable at this point to speculate that Aguillard may have gone after faculty under Quarles as retaliation.
But as has happened before, when a situation is bad Aguillard finds a way to make it even worse. Rather than allowing the departing Lister to receive the Professor of the Year Award, Aguillard tried to save face by cancelling the award.
When I first arrived at Louisiana College, as part of my Department Head responsibilities, I would attend Board of Trustee Dinners. I was always struck by the semi-messianic aura around Aguillard from the Board. It seems that this has at least, in small part, changed. But, it is also time for the majority of  the Board and David Hankins to admit that by supporting Aguillard they are supporting vice, not Christ.
About Post Author